70 Million Civic Actions and Counting
Read on to learn about some exciting changes at New/Mode and what is staying the same.
First let me say thank you to the campaigners out there who have been part of making tangible change for our communities.
Together we've facilitated over 70 million messages to decision makers and more importantly we've helped campaigners to:
The stakes are getting higher and campaigners are rising to the challenge
As exciting as the above impact is, the social turmoil that has unfolded in recent years has upped the stakes for those of us doing this work. People are feeling hopeless in the face of economic hardship, climate change, social injustice and the erosion of democracy.
76% of Americans say that we face a threat to democracy itself and they aren't wrong. Within Canada, 1 in 10 now feel that authoritarian rule is acceptable in certain circumstances. Many other countries we serve reflect similar sentiments that demonstrate a decline in trust in our institutions and rising authoritarianism.
If our democracies are broken, it makes it difficult for us to keep our communities safe or make progress on the issues we care about.
Thankfully, we've seen some positive shifts in our civic campaigning ecosystem as of late. More tech platforms have embraced some version of a Values Filter; more campaigners and organizers have moved away from relying solely on performative petitions and untargeted social media engagement.
More and more people understand that the churn and burn approach to digital engagement is not only bad for society, it's also bad for individual organizations.
This continued shift towards building relationships, power and tangible community impact is important because collectively civic campaigners reach hundreds of millions of people.
Yet, performative campaigning practices continue to be embraced by some, wasting resources at a time when we need to mobilize every asset at our disposal towards meaningful change. Despite progress in our community, billions are being spent on campaigns that could win but don't.
This isn't a new problem. In fact, we flagged much of this in our initial Full Spectrum Engagement framework that we published several years ago.
Providing a platform focused on real relationship building and impact is why New/Mode is focused on putting civic voices in direct contact with decision-makers in every channel – These modern tactics are seen as influential by 92% of congressional staffers and have been found to increase the propensity to vote in elections by 50%.
The question we've been pondering lately is, what can we at New/Mode do to support our community and further shift our space towards impactful campaigning that works?
Digging in to better serve
Before making any big decisions, we reviewed countless industry studies, conducted our own primary research with several surveys and over 75 interviews with advocacy campaigners, reviewed numerous webinars and trainings, and we had the privilege to monitor over 17,000 campaigns and 70 million civic messages to decision-makers that have been facilitated by New/Mode.
Here's some of the takeaways from our 'listening tour':
Campaign supporters yearn for access to civic actions that are more meaningful to them personally. They want a resource to discover, follow and act on campaigns that resonate with their daily lives and they want to be able to track their impact;

Smaller grassroots organizations and individuals are underserved by civic tech providers. Tech platforms are often over built for their needs and not financially accessible;

Campaigners lack access to nimble tools to respond quickly to key moments of opportunity and build momentum from current events;

Mid-sized to Larger organizations lack the data, integrations, insights and support to make the most of their work.
Our findings reinforce that both advocacy campaigners and supporters have a desire to shift from traditional "civic engagement" (focusing primarily on engaging audiences of supporters) to "civic impact" (campaigns that embrace strategies and tactics that have a real impact on our communities, power, and policy).

Put simply, people are ready to step up, but we need access to tactics that actually work.
We're making some shifts to make sure we're meeting this moment and maximizing our support for those on the front lines of civic campaigning. Stay tuned to see some exciting changes: a branding revamp, a new look and feel of our web presence, and opportunities to test out new platform experiences.
Join our waiting list to help us test out the new product experiences we're working on!
At a higher level here's how we're reorienting our work going forward…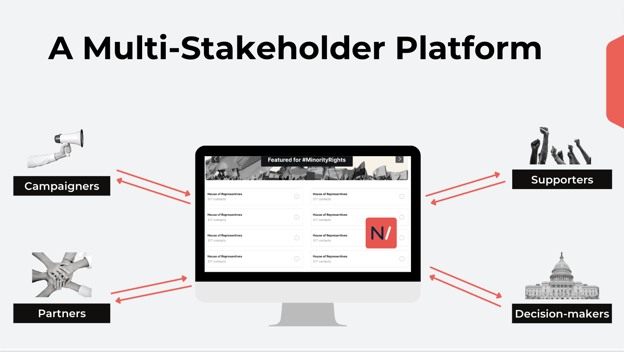 We've long had the aspiration to serve multiple stakeholders and now that vision is turning into a concrete plan we'll begin to execute on in the coming months. Our website sees significant traffic from folks looking to find actions they can take. Up to this point these supporters have been met with a dead end and that will no longer be the case.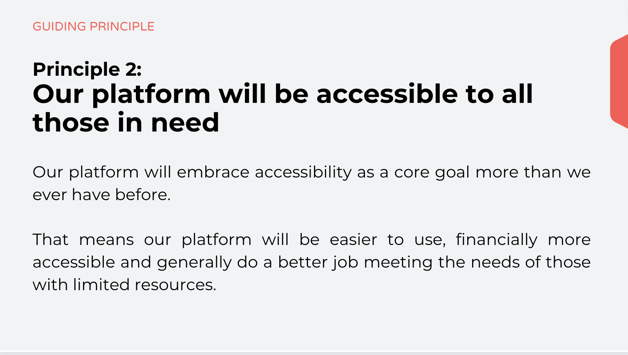 We've always tried to meet campaigners where they are but we're committed to making much bigger strides in this area very soon.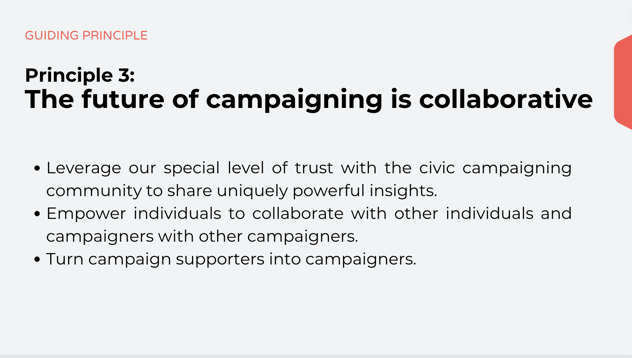 We've long tried to be a platform of not just technology but also insights and learning. For the most part we've facilitated the later part of that manually through webinars, strategy sessions and best practice resources – we hope to keep that going and bring our technology platform to bear on this task as well. How can campaigns be optimized after we analyze and learn from 70 million messages to decision makers? We intend to find out.
What isn't changing?
We'll continue to put real Civic Impact at our core.
People are ready and willing to take action. Hundreds of millions of people do so every year. What we need, is what we've always needed - to provide a way to have our voices heard that actually works. More than ever, our job is to make your voice impossible to ignore. (This is our new tagline BTW)
When I was reviewing all the data and material mentioned above, it crystallized something for me that I should have realized earlier.
Fundamentally, amplifying someone's voice is about recognizing the basic human dignity we all deserve – it communicates that we value that person, that we care about them, and that we feel the world needs more of them. Supporting our community to amplify voices, make tangible change, and deliver dignity to all, is what you can count on us to be laser focused on here at New/Mode.
Thanks to all of you who have been on this journey with us. The hundreds of organizations, thousands of campaigners, and millions of campaign supporters. Together we've made a significant positive impact on the lived experience of hundreds of millions of people. We're humbled and grateful to support this work.
Let's see what we can do next. Together, we'll make our voices impossible to ignore.
~Steve on behalf of your New/Mode team
Sign up to test the New/Mode Beta

Steve Anderson is the co-founder and chief strategist for New/Mode — a values-based platform that provides targeted online engagement tools. https://NewMode.net
More From New/Mode Blog
More on Grassroots from New/Mode Blog
More on Grassroots from New/Mode Blog
More on Grassroots from New/Mode Blog