Community Spotlight: The Tangible Wins from Safe Passage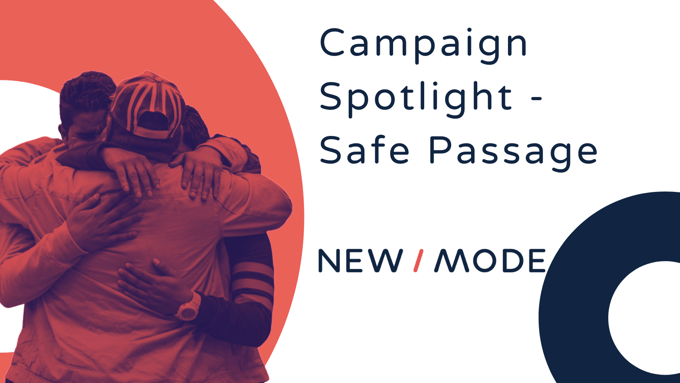 At New/Mode, we've decided that in 2022 we want to expand our work spotlighting and celebrating great work in our community of social good campaigners.

I'm excited to highlight the work of Safe Passage UK – an organization that campaigns for and to help child refugees access legal routes to safety.
Safe Passage is an easy group to highlight because they were the Winner of the UK's 2021 Charity Awards in the 'Campaigning and Advocacy Category'. When they won the award, Charity Awards judge Chris Sherwood said Safe Passage was "very impressive", and praised its focus on youth advocacy and local campaigning.

The Charity Awards website does a nice job of briefly explaining Safe Passage's origin story:

"A group of volunteers who visited the "Calais Jungle" in 2015 discovered that thousands of refugee children were living alone, without adults, in squalid conditions. They were taking desperate measures to get to the UK, such as attempting to cross the Channel by boat, to reach relatives.
It turned out that there were already laws in place to provide safe and legal routes for unaccompanied children – the Dublin Regulations. However, these were not accessible to vulnerable children and authorities were either ignoring their rights or delaying the process.
Therefore, Safe Passage was established as part of Citizens UK to open and defend safe legal routes and reunite children with their families in the UK and Europe. It does this through strategic legal casework, advocacy, campaigning, practitioner training and holding governments to account."
Now due in part to their dogged advocacy more than 1,800 children and other refugees have travelled safely through routes Safe Passage helped to open.
Safe Passage works closely with local independent campaign groups to lean on local authorities and MPs to ensure the laws are acted on. Other successes include securing 1,440 foster care placements from local councils, after the government had said there was no capacity
In May 2020, Safe Passage helped 47 people reunite with their families via an extraordinary flight to the UK from Greece. They had all been accepted to be in the UK but their travel was halted by the pandemic.
Like most progressive campaigners that care about impact, not just engagement, Safe Passage deployed a long term multi-tactic campaign.
At New/Mode we're honored that Safe Passage has chosen to use our platform as part of their award winning work, including our uniquely powerful Letter-to-The-Editor tool.
Like many others who have had policy impact, Safe Passage has mobilized their supporters to connect with decision-makers through multiple channels (including email, petitions, and Twitter as well).
We know from several studies that this long term Full-Spectrum approach to advocacy can be much more impactful than other campaigning tactics and we're so happy New/Mode could be part of this work.
Join Safe Passage's mailing list to support and stay informed about their important award winning campaigning.
Steve, New/Mode Co-founder

Steve Anderson is the co-founder and chief strategist for New/Mode — a values-based platform that provides targeted online engagement tools. https://NewMode.net
More From New/Mode Blog
More on Campaign Strategy from New/Mode Blog
More on Campaign Strategy from New/Mode Blog
More on Campaign Strategy from New/Mode Blog