The Delivering Community Power Digital Engagement Campaign
The Campaign in a Nutshell
Maximizing their digital engagement, the Delivering Community Power network has been using New/Mode's sophisticated, user-friendly tools to mobilize people in Canada to participate in a 2-stage governmental public Review of Canada Post, and to support the network's innovative plan to use our postal infrastructure to address some of Canada's most pressing climate and economic challenges. We're proud that New/Mode tools played a role in this exciting project.
At a high-level the tools empowered the Delivering Community Power network to:
Grow a strong coalition of over 50 labour, environmental and anti-poverty organizations
Engage tens of thousands people across Canada to either participate in Stage 1 of the public government review of Canada Post, or to share the ambitious vision further across a range of platforms
Create a solid base–with media and public interest at a high, the DCP network is now in a strong position for Phase 2 of the government's consultation
The Network
New/Mode supported The Leap Manifesto, in collaboration with Friends of Public Services (FPS), Canadian Union of Postal Workers (CUPW) and Canadian Postmasters and Assistants Association (CPAA-ACMPA), to launch a bilingual digital engagement campaign calling for expanded postal services. They proposed a bold vision for Canada Post offices as hubs for green innovation, connecting local businesses and customers through postal banking, green infrastructure with renewable-powered postal fleet and electric charging stations, and community services like local food delivery and support for elders and those with limited mobility.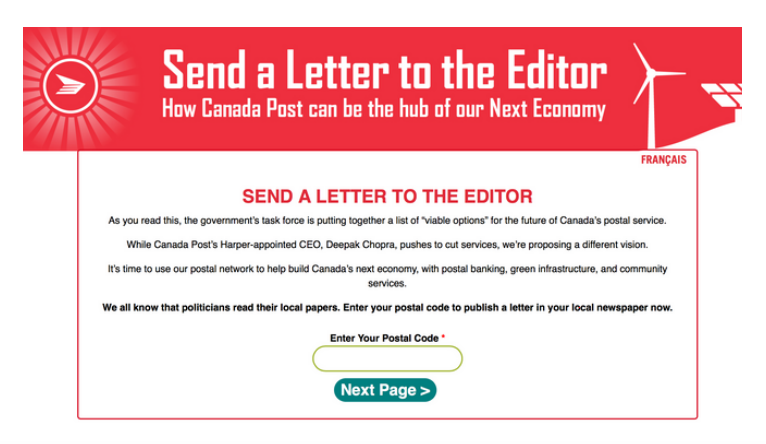 "What a success! We feel so lucky to have had the chance to work with all of you on this, and so grateful to each of you for going above and beyond, week after week, to make each action come alive under difficult deadlines and circumstances!"
Katie McKenna,
The Leap Manifesto
The Challenge & Urgent Opportunity
As management lockout has just been narrowly averted, and Canada Post has been forced to return to bargaining, postal workers are in a position to push for a brighter future for postal services in Canada. The government-mandated public review of the postal service offers a rare chance to push for a bold alternative to use our postal service to build a more equitable, sustainable economy in Canada.
Our Solution
New/Mode provided high-impact advanced online engagement tools, basic training, back engaged collaboration tools and infrastructure, and campaign strategy for the project. We supported the development of 4 unique bilingual action pages themed accordingly to each cause, provided the DPC network with a detailed action calendar and e-blasts and other content templates, and a basic social media calendar with share images.

Using New/Mode's cutting edge online tools, we supported the engagement of people and organizations across the country to:
Submit or edit a pre-written letter on behalf of the Delivering Community Power to Phase 1 of the Online Public Review of Canada Post utilizing New/Mode Click to Target tool. The tool both emailed citizen comments directly onto the government's public record for the consultation and it CC'd the Minister in charge of the file. As you can see below they both definitely know where the public stands on this issue now.

Write letters to their local papers via our automated Letter to the Editor tool in support of expanded services at Canada Post - users were simply asked to enter their postal codes to see a list of their local papers to submit letters to. The tool provided a rotation of text options to consider, so papers weren't bombarded with the same content, and encouraged users to customize their submissions

Contact their MPs with a direct message - once supporters filled out their postal code, our easy-to-use New/Mode tool sent a direct message to their MP to "Stop bank price-gauging!" referring them to the DCP postal banking website

Show support on social media, and via organization's mailings lists

Publicly endorse Delivering Community Power and engage in further outreach
The Results
10,000+ registered supporters in first month
50+ coalition partners in first month
17+ letters to editors published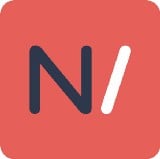 New/Mode's advocacy & civic engagement platform helps causes, orgs and movements activate grassroots power, reach decision-makers and win campaigns.
More From New/Mode Blog
More on Canada from New/Mode Blog
More on Canada from New/Mode Blog
More on Canada from New/Mode Blog