Now the government wants you to FAX your comments? Challenge accepted.
Last week, Canada's National Energy Board tried to limit public input on the #TransMountain pipeline review process by insisting comments (and registrations to intervene) be submitted by fax — and they gave Canadians just one week to do it.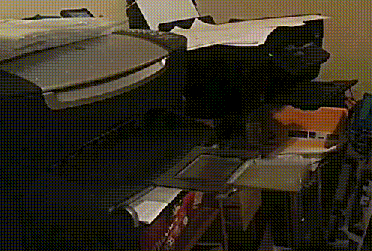 This is one example of the growing — and really alarming — trend of government agencies making it just short of impossible for communities to actually have a say in the decisions that impact their lives.
When "public consultation" is neither public, nor consultation.
We're used to the same ole suppression tactics:
Ridiculously short consultation timeframes that prevent meaningful consideration, research, preparation of comments — and organizing.
Little-to-no communication about public processes in actual public channels. Pro tip for government agencies: We shouldn't need a public policy degree and hours a day spent mining PDF's to know if we're being asked for our opinion.
Intentional exclusion of the communities that are impacted the most, especially Indigenous people and other marginalized populations.
The world's worst user experience. When you've overcome everything else above, they still make it really hard for you to know who to contact, how, and when.
But, what happened last week was next-level obstruction of feedback — designed to silence your voices.
Sure, the National Energy Board (NEB) is archaic. But asking Canadians, spanning the entire demographic spectrum, to acquaint (or re-acquaint) themselves with a fax machine, is one of the most intentionally restrictive and unjust "public consultation" processes we've ever seen.
What can we do about it?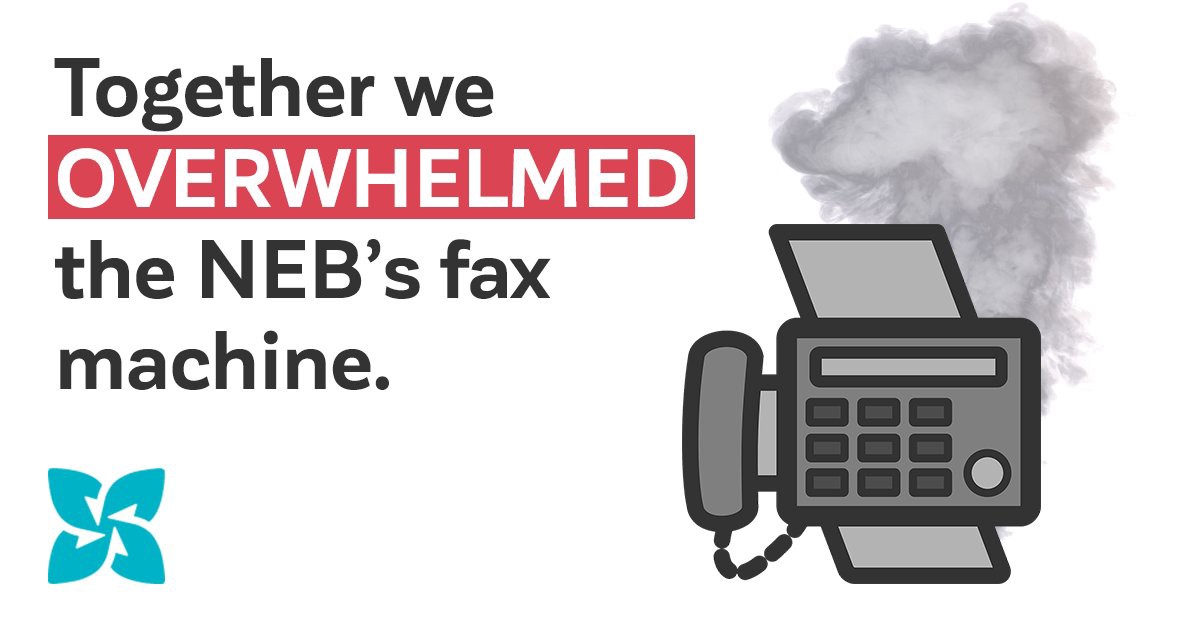 Last week, 350 Canada, Dogwood BC, Sum Of Us & Coast Protectors leapt to action with public campaigns to encourage Canadians to submit comments before Friday's deadline. Using New/Mode's One-Click Fax tool, over 11,000 people sent messages to the NEB — completely overwhelming their one fax line.
Of the 11,000 comments submitted before the deadline, how many will be accepted for consideration? How many more received a busy signal? Our logs show that, at some point before the deadline, faxes stopped transmitting to the one fax number provided by NEB.
While this action is still a huge victory for concerned citizens and intervenors, it also underscores how flawed the process really is. Clearly, big corporations (and the government agencies that enable them) are getting better at evading their own citizens — the very voices that should be heard and represented in decision-making. Thankfully, organizations, community groups and citizen activists are primed to hold them accountable.
Video Repost: 350 Canada
We consider this a challenge and we invite others to rise to the occasion. At New/Mode, we will keep building the tools that help connect citizens with decision-makers; even when we have to kick it old-school like 1992. We believe that transparency and public participation in decision-making are amongst the biggest threats we are facing today.
"Democracy dies in darkness." — The Washington Post, 2017
Take Action
Get in touch if you are planning a citizen-to-representative engagement campaign or struggling with a cumbersome consultation process. Our team loves breaking the systems that are holding us all back.
Support the NGOs and community groups that make it possible for you to take action on the issues you care about. Getting decision-makers to hear your voice –and do their job– is resource intensive. If you care about the #TransMountain review process, 350 Canada, Dogwood BC, Sum Of Us & Coast Protectors are all good choices.
The next time someone asks you to contact your representatives, don't hesitate. Together, we can elevate the voices that are others are purposefully trying to ignore.
About New/Mode
New/Mode's advocacy and engagement tools help progressive campaigners activate grassroots power, reach decision-makers and win campaigns.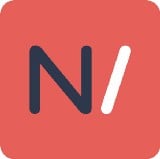 New/Mode's advocacy & civic engagement platform helps causes, orgs and movements activate grassroots power, reach decision-makers and win campaigns.
More From New/Mode Blog
More on Transmountain from New/Mode Blog
More on Transmountain from New/Mode Blog
More on Transmountain from New/Mode Blog