How New/Mode Enabled Swell Inc. to Unlock Change at the Local and Federal Level
Recently I sat down with truth-tellers Clayton Rosa and Sara St. Hilaire, two creatives behind Swell Inc. Swell is a full service marketing agency that provides their change-making clients with the expertise they need to win their important campaigns. Their suite of support is focused on one central goal: build a groundswell of support that cannot be ignored. New/Mode's digital advocacy software helps Swell identify and recruit thousands of supporters to their movements while simultaneously mobilizing them in advocacy actions. Let's learn how!
The Story of Swell Inc.
Who does Swell work with? To this question Sara simply responded "Our work is social justice work." Their clients range from nonprofits to small businesses–anyone who is dedicated to doing what is right in the world. For over ten years Swell's expert marketers have been helping communities build a strategy, a brand, and a cohesive narrative so they can more effectively win their campaigns. Unlike most agencies, Swell uniquely combines creative marketing and a social-justice lens. This ensures that their online marketing aligns and complements their offline and on-the-ground organizing. Most importantly, Swell prioritizes and emphasizes human connection in everything they do.
The Untapped Potential of Digital Advocacy Tools
Clayton discovered New/Mode as an advocate himself. He came across an organization using New/Mode to put supporters in touch with decision-makers and quickly participated in the action. He was impressed by its seamless technology and the ease in which it connected him with decision-makers, and realized New/Mode's software was just what Swell to facilitate impact for his own agency and the clients they serve. In Clayton's own words:
"I recognized that there was a need to escalate our advocacy in a way that would allow us to hold elected leaders and policy makers accountable."
-Clayton Rosa, Director, Strategy
After he took part in the action he quickly got in touch with one of our campaign advisors to learn about how New/Mode can support agencies.
Why Swell Inc. Chose New/Mode
New/Mode and Swell share the same passion for social justice and progressive values, something that aligns with New/Mode's philosophy of exclusively working with like-minded organizations. In the end, Swell chose New/Mode because of its flexible CRM integrations, affordable price point, and opportunity for business development.
Swell explored other digital advocacy tools, but Clayton explained that its high cost and barriers to entry made it inaccessible to most of Swell's clients. More importantly, many digital advocacy platforms require the client to use their in-house CRMs in tandem with their suite of advocacy tools. Clayton emphasized New/Mode's affordability and software adaptability–he loved how it could be used with any client's pre-existing CRM.
New/Mode's price point and flexible CRM integrations provided a much more realistic and dynamic solution for Swell's clients. It allowed them to be agile and respond quickly to their clients' needs. As Sara says:
"It's so easy to replicate our designs on New/Mode, which is key to getting actions up quickly for our clients, especially for some campaigns that are moving very fast."
-Sara St. Hilaire, Director, Agency Planning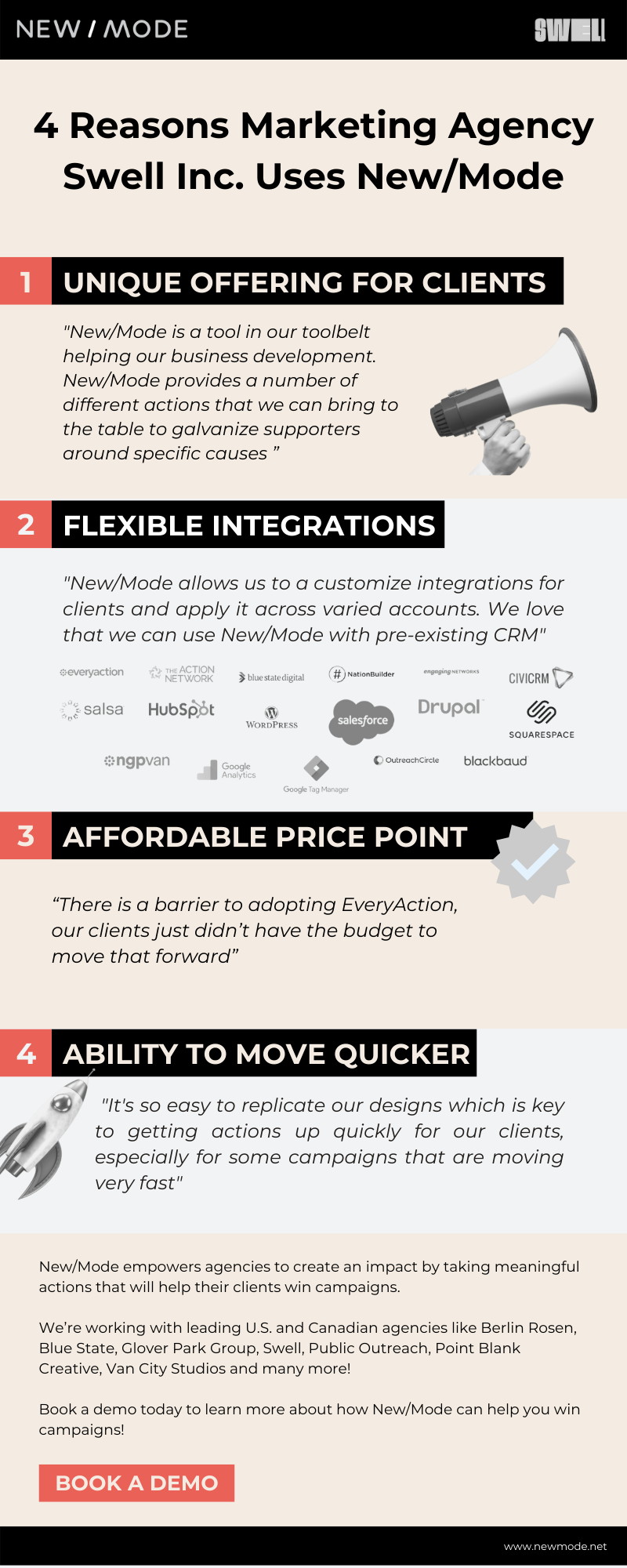 How New/Mode Contributes to Business Development
Swell puts their clients first. The success of their business directly relates to the impact they help their clients achieve. New/Mode is now another tool in Swell's creative marketing toolbox and has greatly contributed to the success of their clients' campaigns. New/Mode has helped Swell mobilize thousands to contact their local elected officials to demand investments in public services and protect California's street vendors from harassment and discrimination, among many other campaigns.
Often legislative cycles move quickly and change with little warning, New/Mode helps Swell adapt to these changes and enables them to get action-oriented websites created quickly which has been vital to campaign success. New/Mode is not just one tool, but a toolbox in and of itself–providing a myriad of ways to reach decision-makers: by phone, tweet, call, fax, or email. as well as a way to write op-ed in local newspapers. Clayton explained that, because New/Mode offers a wide range of ways to take action, Swell is able to bring numerous potential solutions to the table when problem solving with clients.
Swell Inc.'s Impact with New/Mode
Let's take a look at how Swell Inc. creates a tangible impact for their clients using New/Mode.
Re-Imagine L.A. Coalition, Measure J
The Re-Imagine L.A. Coalition consists of organizations dedicated to structural change. This includes divesting L.A. from the carceral system and investing in public services and the community. Measure J called for L.A. to invest no less than 900 million dollars in community-based services. This measure was on the ballot in November 2020 and passed with over two million votes. Now, the coalition works hard to ensure that the measure is properly implemented and leaders are held accountable to their promises. Swell is creatively using New/Mode to not only to reach decision-makers but to form deeper relationships on the ground.
"One thing that I'm really excited about is not just the advocacy piece but the data capture that allows for deeper targeting. With New/Mode we sent over 1,200 emails to the board of supervisors in L.A. county in support of the implementation of Measure J. Now we have a better idea where Re-Imagine L.A. supporters live and who their supervisors are. Because of this, we have the opportunity to leverage that data to further hold elected leaders accountable. We can coordinate round tables and reach out to the L.A. county supervisors and tell them with certainty how many of their constituents support Measure J and request a meeting with them. This level of granular community organizing is so incredibly impactful" says Clayton.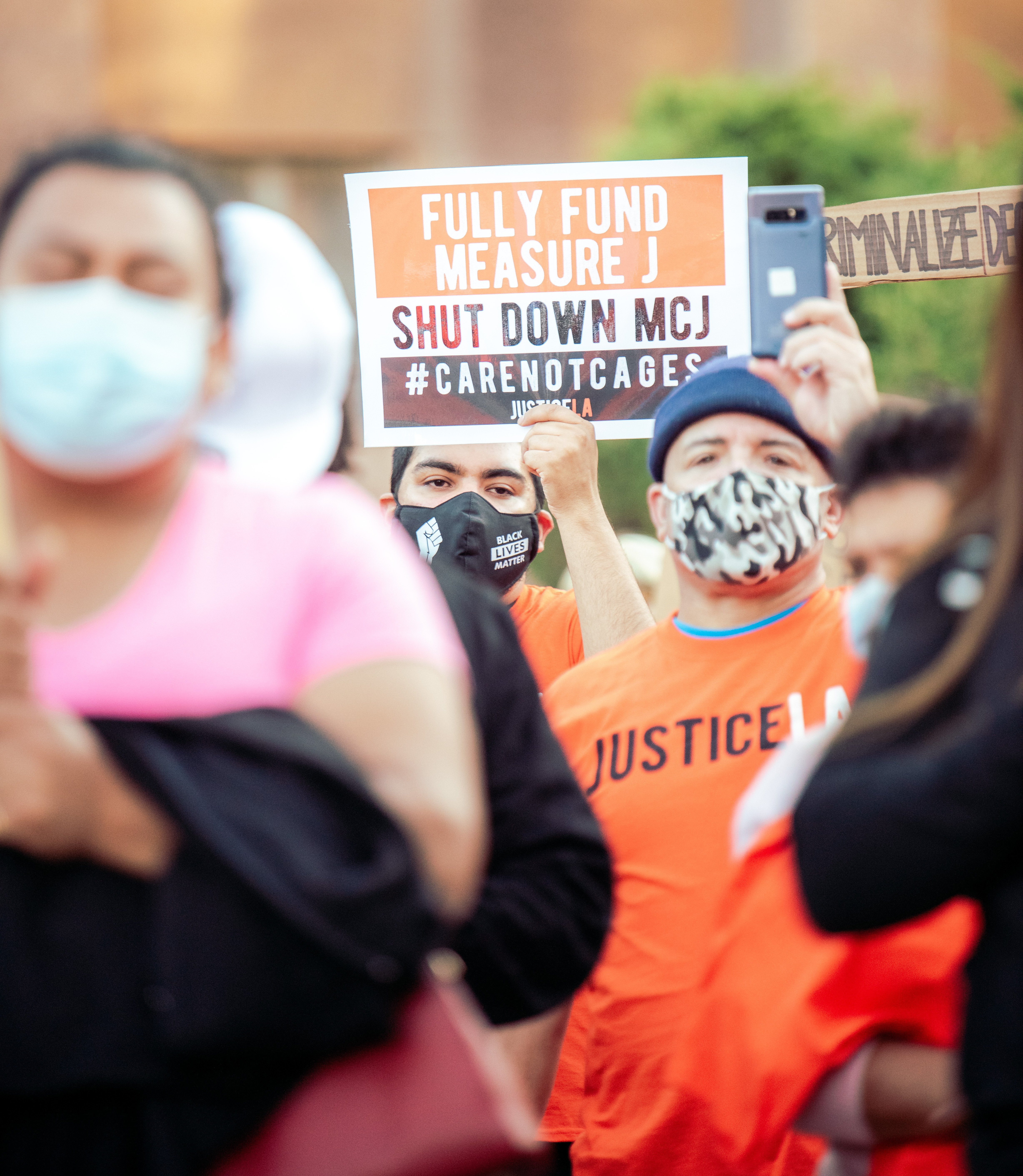 Re-Imagine L.A. Activists. Photo Credit: Mike Dennis
California Street Vendors
California Street Vendors is working to improve the permitting process for street vendors in the state of California. Currently, the California Retail Food Code is outdated and the coalition is fighting for a modern retail food code to protect local vendors from being treated unfairly.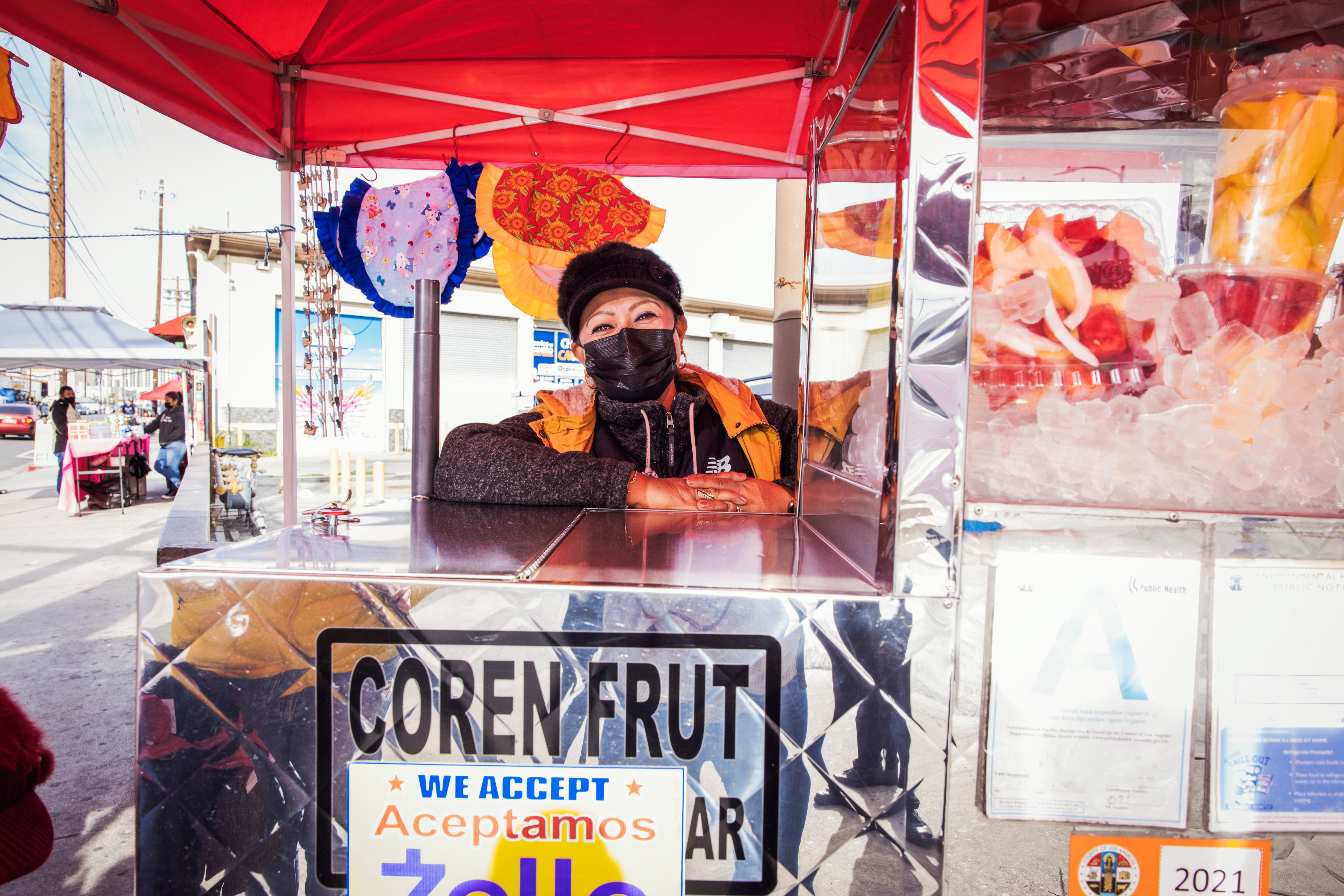 A California Street Vendor. Photo Credits: Christina Gandolfo
"Through New/Mode we sent more than 100 calls to the specific senate health committee prior to a key public health committee hearing. On April 20th the bill passed through the committee. This was one of those proof points of the impact we can have when we galvanize communities." explained Clayton.
The Developers Alliance, Save our Apps
The Developers Alliance is the leading advocate for the global developer workforce and the companies that depend on them, a key voice in the software industry. Their national Save our Apps campaign is working to shape tech legislation in the Senate and the House. Currently, US Senate Bill S.2992 attempts to protect users and small businesses, but in reality threatens the livelihood of developers and the app ecosystem.
As part of the Save our Apps campaign, Swell uses New/Mode to deliver petition signatures to Senators and Representatives to slow down the legislative process and ensure that all stakeholder voices are heard.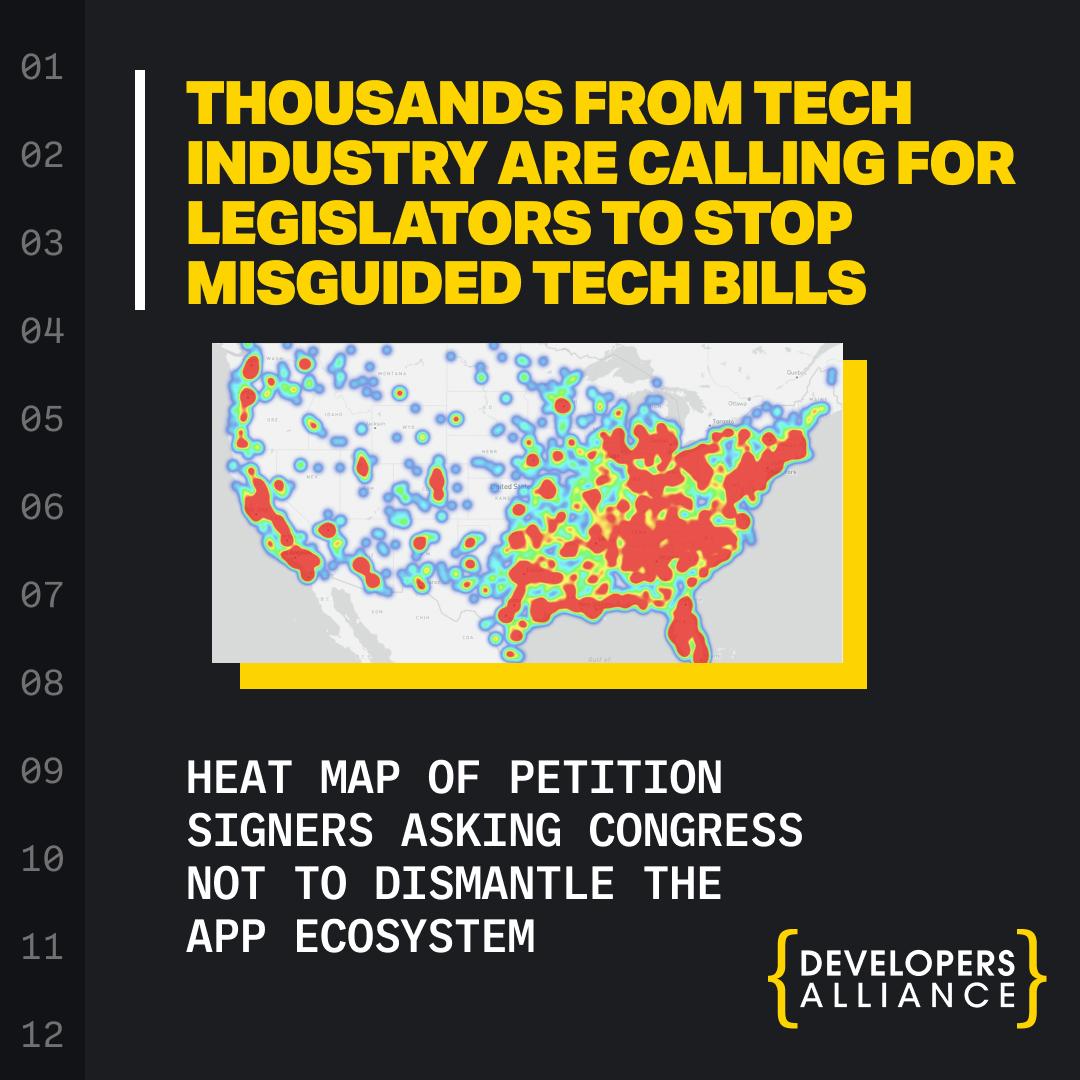 A heat map of where petition signers are geographically. Photo Credit: Developers Alliance
"Through New/Mode 1,919 constituents sent 31,162 letters to U.S. Senators and Representatives asking for Congress to consult with developers before passing tech bills that negatively impact the app ecosystem" said Sara.
Contact Us to Get Started!
New/Mode is thrilled to assist Swell in building and mobilizing a groundswell of support for their clients. In only a short period of time Swell has seen incredible impact in their client's campaigns and in their business as a creative agency. If you are interested in adding New/Mode to your toolbox so you can improve your business and your clients' campaigns contact one of our campaign advisors to get started.
As a Community Marketing Specialist, Abbey nurtures and engages New/Modes's dynamic community through organizing top training in the digital organizing field and facilitating mutually beneficial partnerships. She has experience directly coaching New/Mode subscribers on digital advocacy best practices. Before joining New/Mode, Abbey worked as a Provincial Organizer for Dogwood BC, where she played an integral role in engaging and mobilizing volunteers. Previously, Abbey designed and implemented strategy for two successful election campaigns and fundraised for the Wilderness Committee, one of Canada's most significant environmental charities.
More From New/Mode Blog
More on Digital Marketing from New/Mode Blog
More on Digital Marketing from New/Mode Blog
More on Digital Marketing from New/Mode Blog