RTA Chicago: Leveraging social media to #InvestInTransit
The Issue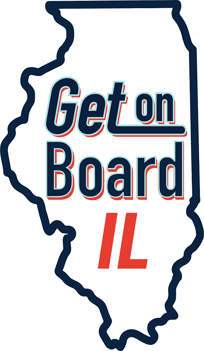 Every day, millions of Illinois residents depend on safe, reliable trains and buses to get them to where they need to go. Yet the safety and reliability of the Regional Transportation Authority (RTA) transit system has suffered in the past from a lack of critical investments, culminating at one point in $30 billion of unmet high-priority projects.
Years of inadequate funding resulted in transit service that was slower, more crowded, and prone to breakdowns, negatively impacting both the economy and rider experience. It was unsurprising, then, when riders started asking the RTA what they could do to express their concerns and support for better transit funding.
The Challenge
While the RTA's needs were great, the political will needed to commit to transit investments was lacking. In fact, the State of Illinois went more than a full decade without passing a bill that would help fund projects to improve transit stations, buses, and trains.
Recognizing that their voices were much more powerful together as part of a single, targeted mobilization effort, the RTA launched its Get On Board Illinois campaign to make it quick and easy for their riders to contact decision-makers.
Using two New/Mode-powered actions — a sign-up form and Tweet Action — riders were able to contact their State Representatives and Senators with a click of a button to demand a capital bill that would address years of chronic under-investment in public transit.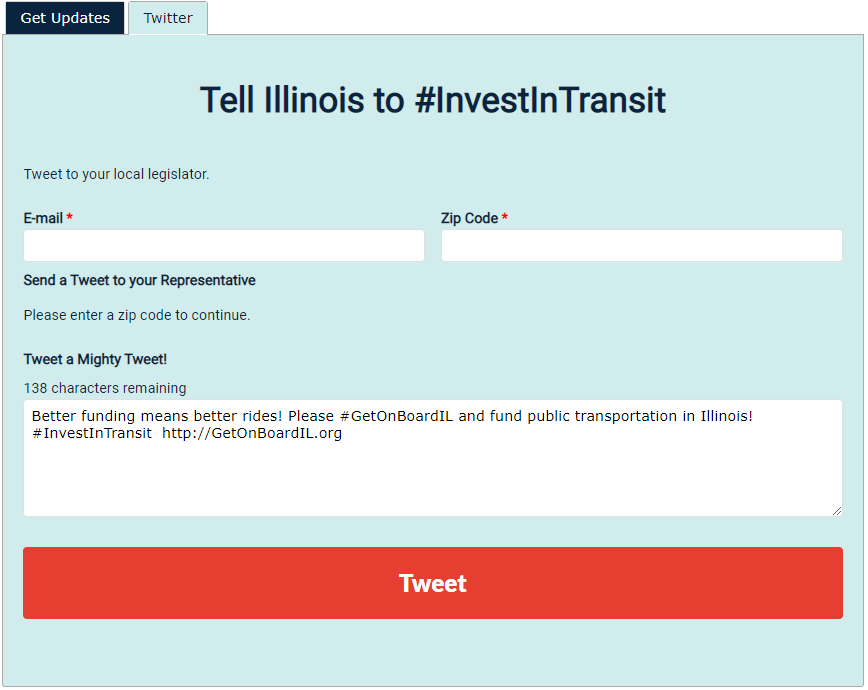 Here's why this one-two punch of tools made this campaign so effective:
Giving supporters an easy way to sign up for updates is key to movement building. With one simple sign-up form, the RTA was able to generate leads, build their mailing list, and cultivate a supporter base already primed to take action for transit.
Meeting supporters and decision-makers where they are — on social media — is a surefire way to apply public pressure on your targets. Using the Tweet Action, the RTA expanded the public reach of the Get On Board Illinois campaign, while also signaling to decision-makers that there was broad support for transit investments.
The Power of Social Media
To further broaden the reach of the campaign, the RTA used the hashtags #GetOnBoardIL and #InvestInTransit throughout the campaign — and guaranteed even more eyeballs and conversions with a paid Facebook advertising campaign.
Prospective supporters were targeted on Facebook and delivered ads directing them to the two New/Mode actions. The total time between ad delivery and the action-taker signing up and sending their tweet? One minute.
Impact
Shortly after the campaign launch, Governor J.B. Pritzker signed a historic multi-year capital bill called Rebuild Illinois that ended the state's decade-long tenure without a capital bill and ushered in the largest infrastructure program in its history. Together, the voices of the RTA and its rides were heard loud and clear.
Campaign Results
767 actions taken to #InvestInTransit
31% page conversion rate
1 bill ushering in the largest infrastructure program in history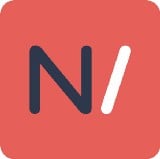 New/Mode's advocacy & civic engagement platform helps causes, orgs and movements activate grassroots power, reach decision-makers and win campaigns.
More From New/Mode Blog
More on Transit from New/Mode Blog
More on Transit from New/Mode Blog
More on Transit from New/Mode Blog