Major updates: Getting better, stronger and faster to help progressives win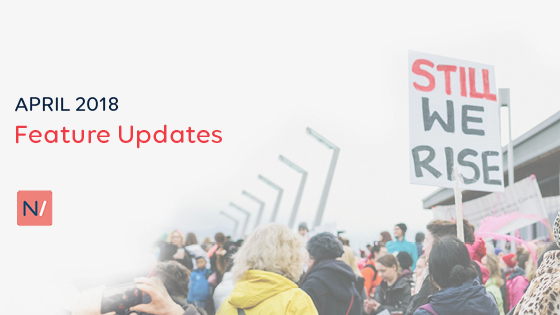 2018 is an important year for the progressive movement. Campaigners are kicking into high-gear to tackle some of the biggest social, political and environmental justice issues of our time — and we want to help.
We spent 2017 listening to our subscribers and watching powerful movements grow. That's why we're working quickly to improve our civic engagement platform, and develop new products and features to help you win campaigns.
We've made some big changes in first quarter of 2018. Here's the latest!
A brand new user experience
We've heard your feedback. New/Mode's new backend interface is sharp and user friendly, making it much easier for you to create and push out targeted campaigns. Beyond a redesign, you'll also notice a new campaign dashboard, re-organized menus, a more functional campaign layout and improvements to user workflows.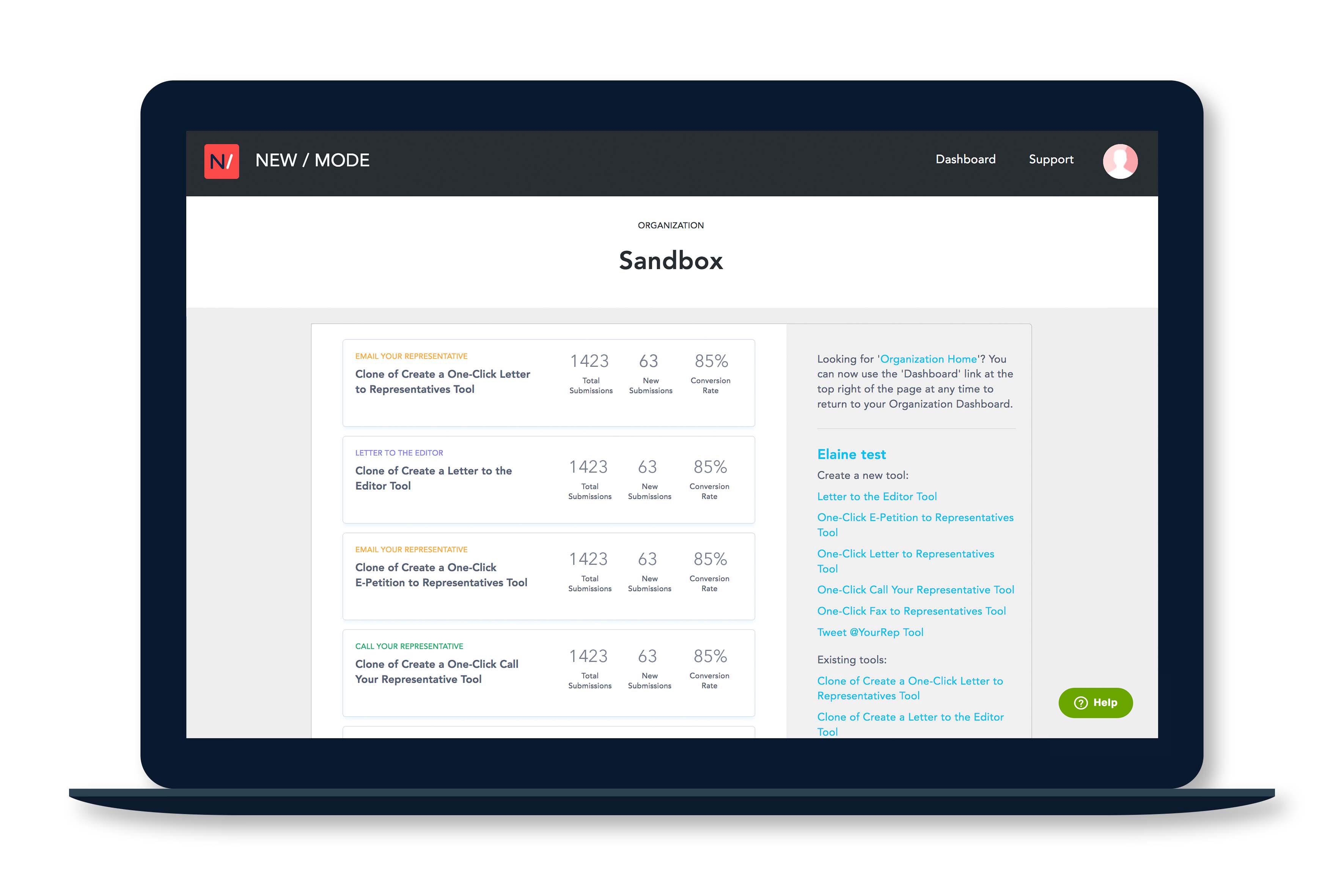 Greater reach
In our Letter to the Editor tool, supporters can now send letters to the local, state and national newspapers they choose. A handy search bar also helps supporters find specific publications that don't show up based on location.
Have a compelling video you want your supporters to send to decision makers? Or maybe you'd like your supporters to Tweet a selfie with a message to their representative? Twitter, email and fax tools can now handle images and video — including content uploaded by your supporters.
All new tools now include Share by Email buttons on thank you pages and auto-generated emails, in addition to buttons for Facebook and Twitter sharing.
More personalization and control
Introducing, Thank and Spank! Is the opposition party supporting your goals, but the government just won't budge? Now, on the One-Click-Calling tool, you can set up conditional content that will load based on your supporters' location. You set the conditions, your supporters get hyper-relevant content to put hard pressure on where it's needed and give positive reinforcement where it's appropriate.
Subscribers can now edit the design and configuration of our default templates or create new custom templates based on the needs of users. Using templates makes it much faster to launch new campaigns. Plus, they look great!
Using tokens, anything a supporter submits in a form can now be included in the body of emails (including custom fields). Personalized messages are more likely to be seen — and acted on — by decision makers.
In preparation for new data protection rules in Europe (GDPR), and our general commitment to meeting the needs of organizations with different privacy policies and procedures, we've made it easier to manage opt-ins.
Better analytics
You can now view all calls, emails, faxes and Tweets by target, so you'll know which decision-makers are feeling the most pressure and which ones need more attention.
In the Analytics tab, you can also now view and export detailed analytics for each action. This includes detailed call analytics for calling campaigns.
More cool things to ask us about!
New database for Ontario election candidates
New CRM integrations and improvements
Form embedding for NationBuilder pages (no more code!)
Dutch translation
Letters to the Editor in Germany and France
Easily manage your team of admin users
We see you working tirelessly for a more just and sustainable world, with real progress and change on the horizon. With your help and feedback, we'll keep building what campaigners need to effectively target decision-makers, activate grassroots power and win!
Want to learn more? Book a demo.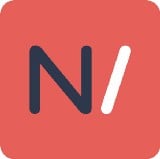 New/Mode's advocacy & civic engagement platform helps causes, orgs and movements activate grassroots power, reach decision-makers and win campaigns.
More From New/Mode Blog
More on Engagement from New/Mode Blog
More on Engagement from New/Mode Blog
More on Engagement from New/Mode Blog