Campaign tip: Elevate voices (and your issue) with Letters to Editors
If you have important advocacy goals you want to meet, Letters to Editors are a powerful way to mobilize your supporter base, reach a broader audience, and move the needle on your issue.
Along with contacting decision-makers directly via email, phone, or social media, sending Letters to Editors is one of the most effective ways to influence public opinion and sway legislators on an issue because:
You'll reach an even larger audience. In fact, the Letters to the Editor section is one of the most popular and widely read parts of many publications.
You'll grab the attention of decision-makers. Elected officials (or their teams) often monitor the Letter to the Editor sections of local publications in order to keep their fingers on the pulse of their constituencies.
You'll provide essential information to readers. Letters to the Editor often provide readers with additional information or insights on an issue that they might not know – and that might not be covered in the news.

You can inspire readers to act – while boosting momentum for your campaign. Any time a publication publishes letters for or against an issue, this builds momentum for the movement and increases the likelihood that a casual reader will feel inspired to get involved, too.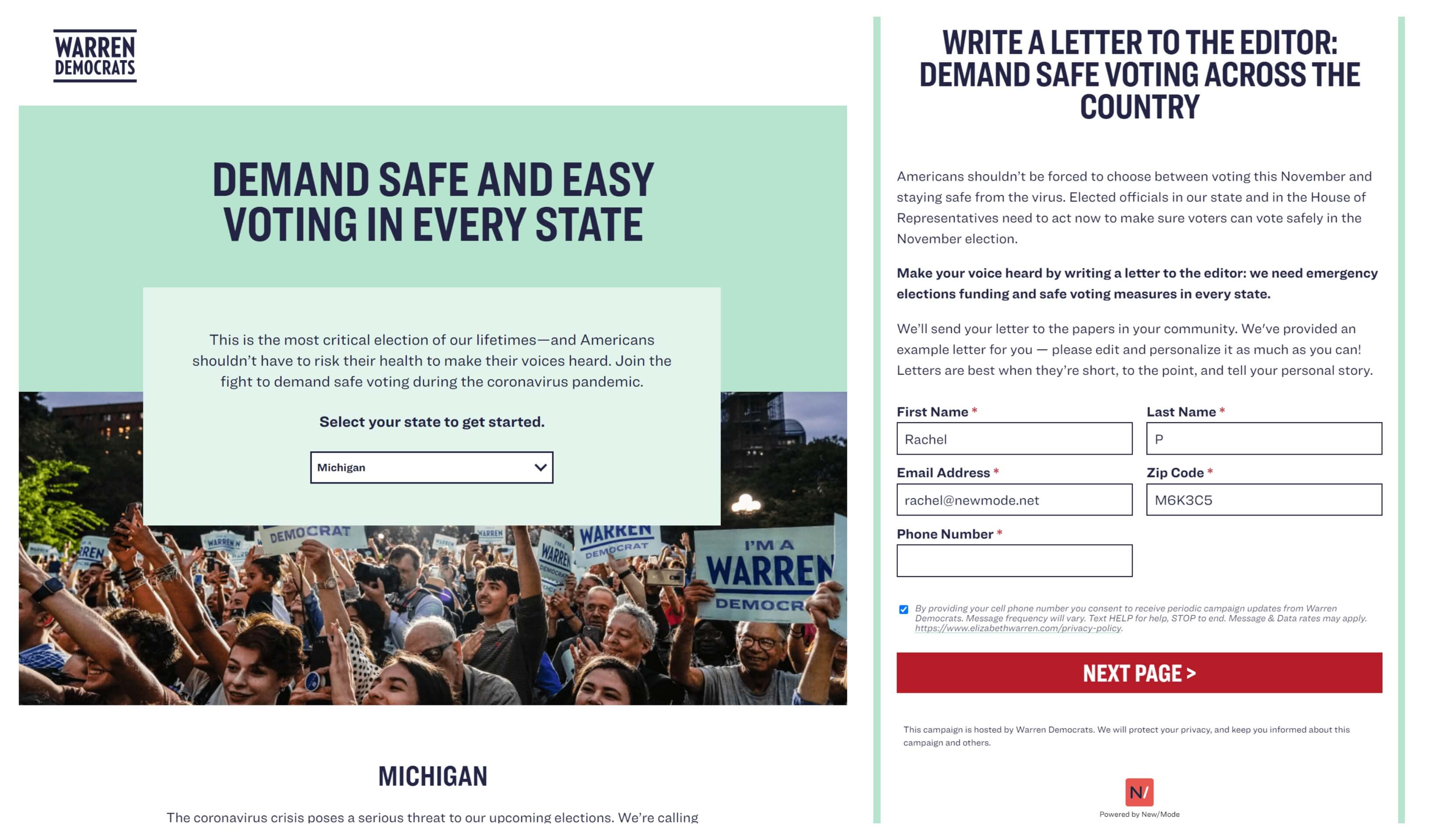 Warren Democrats' campaign for safe and easy voting uses our Letter to the Editor tool. (Read more below!)
Leveraging the power of Letters to Editors
I don't have to tell you that we're living in dark and scary times. In addition to supporting influential voting rights orgs, New/Mode's advocacy and civic engagement platform is used by state parties, campaigns, and advocacy groups to build grassroots power and a strong public voice.
New/Mode's most popular tool is actually Letters to Editors, which makes it possible for voters to share their concerns with five or more local publications in under a minute. By making elected representatives, candidates, and the media more accessible to everyone, New/Mode is significantly boosting engagement on pressing issues, and ensuring real people and communities are involved in the decisions that impact their lives. (Just check out the real-world examples below!)
While Letters to Editors are a fantastic way to achieve broader public engagement, we're also seeing that this tool has tremendous strategic value when it comes to mobilizing volunteers, AKA the people who do your door knocking or help at events. With so many in-person volunteer opportunities off the table, this is a great way to keep the people who already love you super engaged. (In fact, a few of our subscribers often send Letter to the Editor actions to just their volunteer and donor lists!)
Lastly, even if a letter is not published, the more letters an editor receives on a given topic, the more likely the publication will recognize the community's interest in that issue and cover it in some way. Just imagine how effective and persuasive a swarm of your supporters' letters could be!
(Have we mentioned that you won't find a Letter to the Editor tool on any other platform? Along with being one of a kind, ours is powerful, flexible, and super easy to use. 🔥)
More than 40 publications have used the stories submitted through the Letter to the Editor action launched by Canada Spousal Sponsorship Applicants Affected by COVID-19. This Facebook group has effectively used digital tools to raise awareness of the impacts of COVID-19 on spousal sponsorships in Canada. (Read more below!)
Letters to Editors in action
Whether you're a national organization, a state party, or even a small grassroots organization, our Letter to the Editor tool can elevate your campaigns – and put your issues front and centre:
Warren Democrats is running

a 50-state campaign

to mobilize people across the United States to demand safe voting during the COVID-19 pandemic. More than 5,300 people have already made their voices heard by sending in Letters to Editors, calling for emergency elections funding and safe voting measures in every state.
Stand Up America's campaign to protect democracy and advocate for vote-by-mail includes

this Letter to the Editor action

. More than 3,300 people have sent in their letters to publications across the country, and we anticipate this number will continue to rise as we inch closer to November's U.S. election.
The New Hampshire Democratic Party has made it extra easy for their supporters to

send in their letters

by offering six super helpful letter-writing tips on the action page. We love how clean and user-friendly it looks! (We also love that the New Hampshire Dems are strategically targeting Republican and far-right publications! 😎)
Canada Spousal Sponsorship Applicants Affected by COVID-19 is a grassroots organization – it's literally a Facebook group! – that is raising awareness about the complete halt on spousal sponsorships in Canada.
Their Letter to the Editor action empowers people to share their heartbreaking personal stories to publications across the country – and it's working big time. Not only does this action have a 70% conversion rate, but people's submitted stories have appeared in more than 40 national, regional, and local publications across the country. Dozens of news outlets have covered the issue using these personal stories, including The Globe and Mail, CityNews Montreal, The Chronicle Herald, and The Canadian Press. Several MPs have also spoken out about this issue in the House of Commons. 💯💯💯
Letters to Editors are a powerful way to turn your issue into a newsworthy one, with the added benefits of making the media more accessible to your community and empowering your people to share their voices and stories. Letters to Editors is a must-have addition to any digital campaigner's toolkit.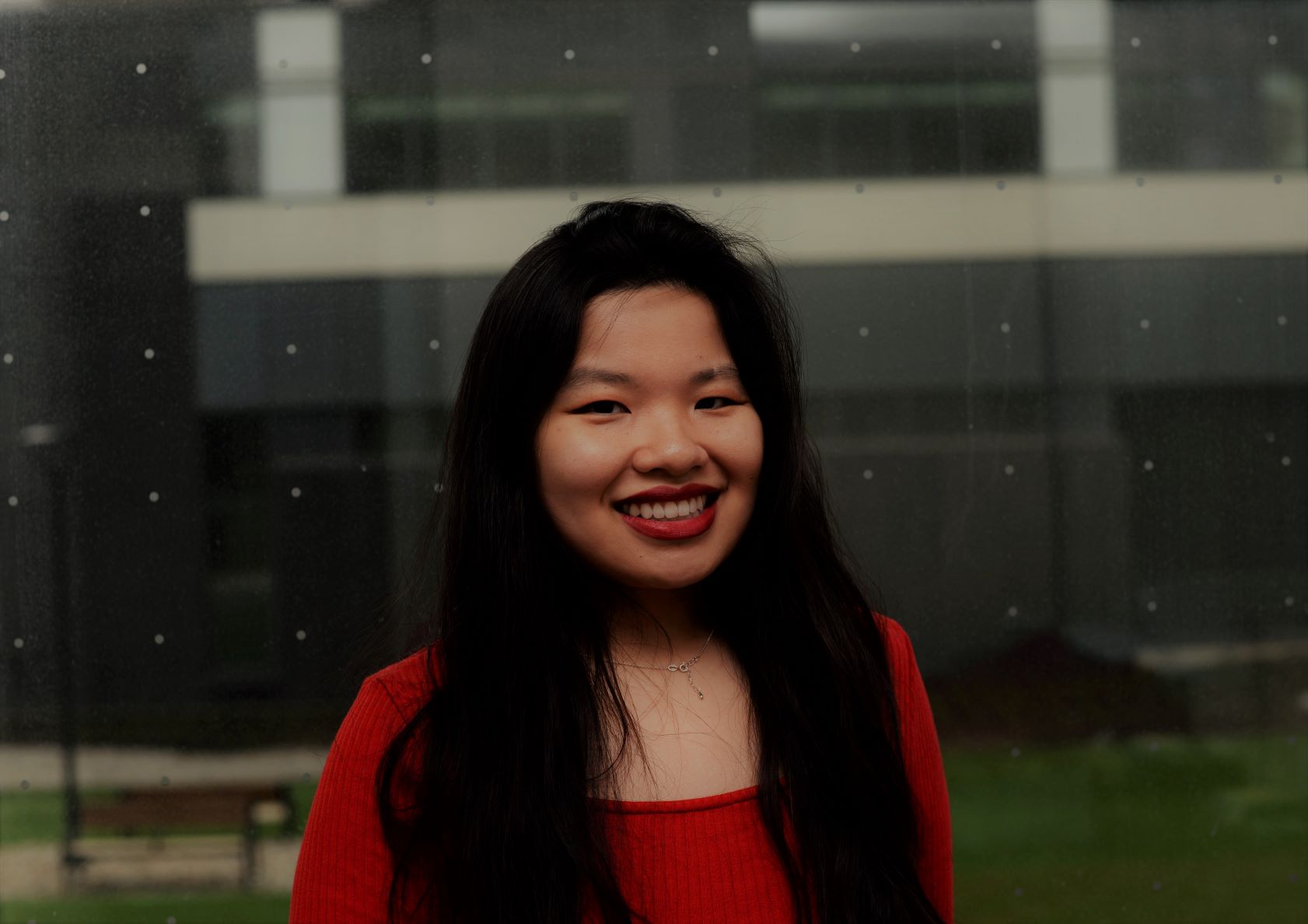 潘美美, best known by her Anglo name Rachel Phan, is a writer based in Toronto.
More From New/Mode Blog
More on Warren Democrats from New/Mode Blog
More on Warren Democrats from New/Mode Blog
More on Warren Democrats from New/Mode Blog