How a groundswell of opposition shut down a massive oilsands project
The Issue
Canadian mining giant Teck Resources Ltd. proposed the building of the nearly $21-billion, 260,000-barrel-per-day Frontier mine in Northern Alberta. More than a decade in the making, the project promised to be the largest open-pit tar sands mine in history. If built, the mega-mine would have devastating, irreversible impacts on the environment, Indigenous communities, and at-risk species and their habitats. The Challenge
Canada's federal government was given until February 28th, 2020 to decide whether to approve or reject the Teck mine. Despite the government's commitment to net-zero emissions by 2050, it was unclear how the government would proceed. It was considered politically risky to reject a project so popular in the province of Alberta, where tensions and feelings of alienation have steadily been on the rise. Alberta Premier Jason Kenney, who lobbied hard for the project's approval, warned Prime Minister Justin Trudeau that a rejection of the project could fuel separatist sentiments in Alberta.
To add to that, no tar sands project had ever been rejected before, and at the end of 2019, the general public was still largely unaware of the proposed mine.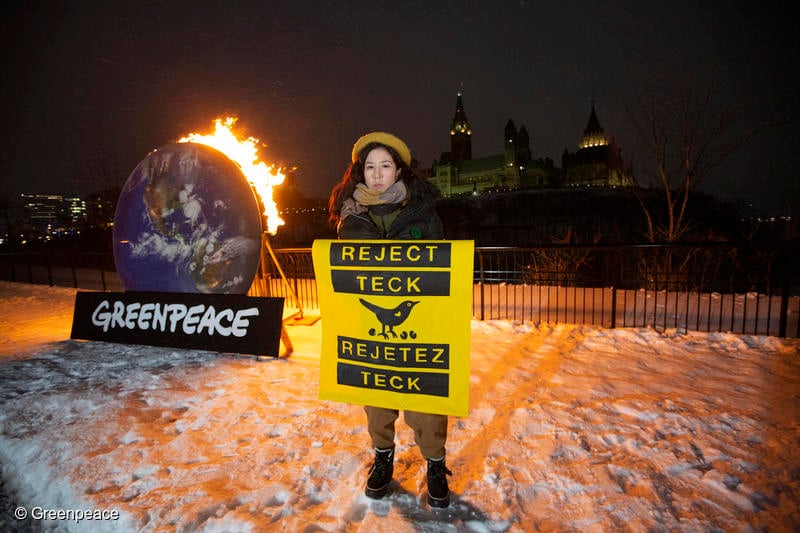 Targeted Multi-Channel Engagement
As February 28th approached, Indigenous land defenders and multiple organizations across Canada launched campaigns to urge decision-makers to #RejectTeck. Members of Parliament, Cabinet ministers, and Prime Minister Justin Trudeau were flooded with messages as groups provided multi-channel opportunities for people to take action. This collective effort pushed the issue to the forefront of people's minds and created a firestorm of opposition to the Teck Frontier project.
Take a look at just a few of the organizations and campaigns that powered the #RejectTeck movement and the tools and tactics they used:
Stand.Earth

embraced a Full Spectrum Engagement strategy and offered four different ways for people to act. They used one-click calling, tweet storms, one-click faxing, and our letter-to-the-editor tool. By doing so, Stand.Earth met supporters where they were, provided a menu of action-taker options, and included a diversity of mediums and voices to make sure no one was left behind.

Leadnow

quickly and easily launched a simple-to-use letter to the editor tool. This action allowed supporters to express in their own words why they opposed the Teck mine and effectively brought #RejectTeck from an online action to an offline result, as countless letters were published in newspapers across the country.
350 Canada paired their one-click fax and one-click call actions with provocative and compelling imagery that called on decision-makers to confront the destructive consequences of approving the mine. This impossible-to-ignore imagery, coupled with social media action sharing, made it easy to reach even more people.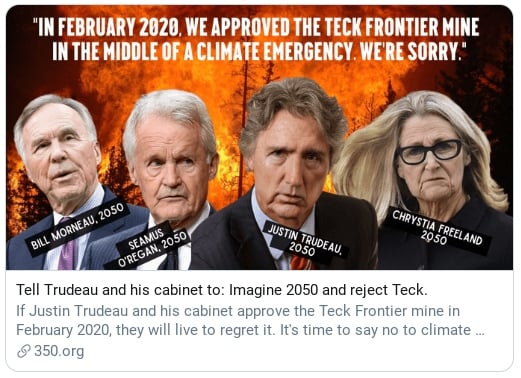 The David Suzuki Foundation offered its one-click email action in Canada's two official languages, English and French. This fast and simple tool's conversion optimized pre-filled forms and Smart Targeting made it that much easier for tens of thousands of people to share their reasons to #RejectTeck with decision-makers.
Other inspiring and effective #RejectTeck campaigns were launched by Protect Our Winters, Wilderness Committee, North99, Greenpeace Canada, and Environmental Defence.
Impact
Just five days before the February 28th deadline, Teck withdrew its application for the Frontier mine. In a letter explaining the withdrawal, Teck CEO and President Don Lindsay wrote, "Global capital markets are changing rapidly, and investors and customers are increasingly looking for jurisdictions to have a framework in place that reconciles resource development and climate change."
He added, "This does not yet exist here today and, unfortunately, the growing debate around this issue has placed Frontier and our company squarely at the nexus of much broader issues that need to be resolved."
This was a shocking turn of events. Teck abandoned their plans for the largest tar sands mine in history because of unprecedented public backlash. People came together en masse to oppose the Teck project and demand real climate action, proving that people power — and multi-channel engagement — work.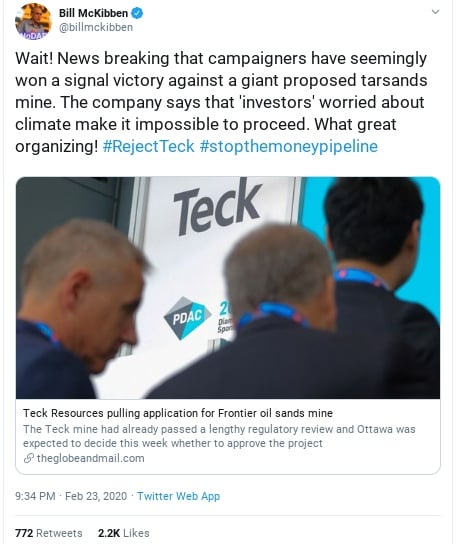 Campaign Results
26,000+ emails and calls to decision-makers
4,000+ faxes sent
985+ letters to local editors
1 withdrawn oilsands proposal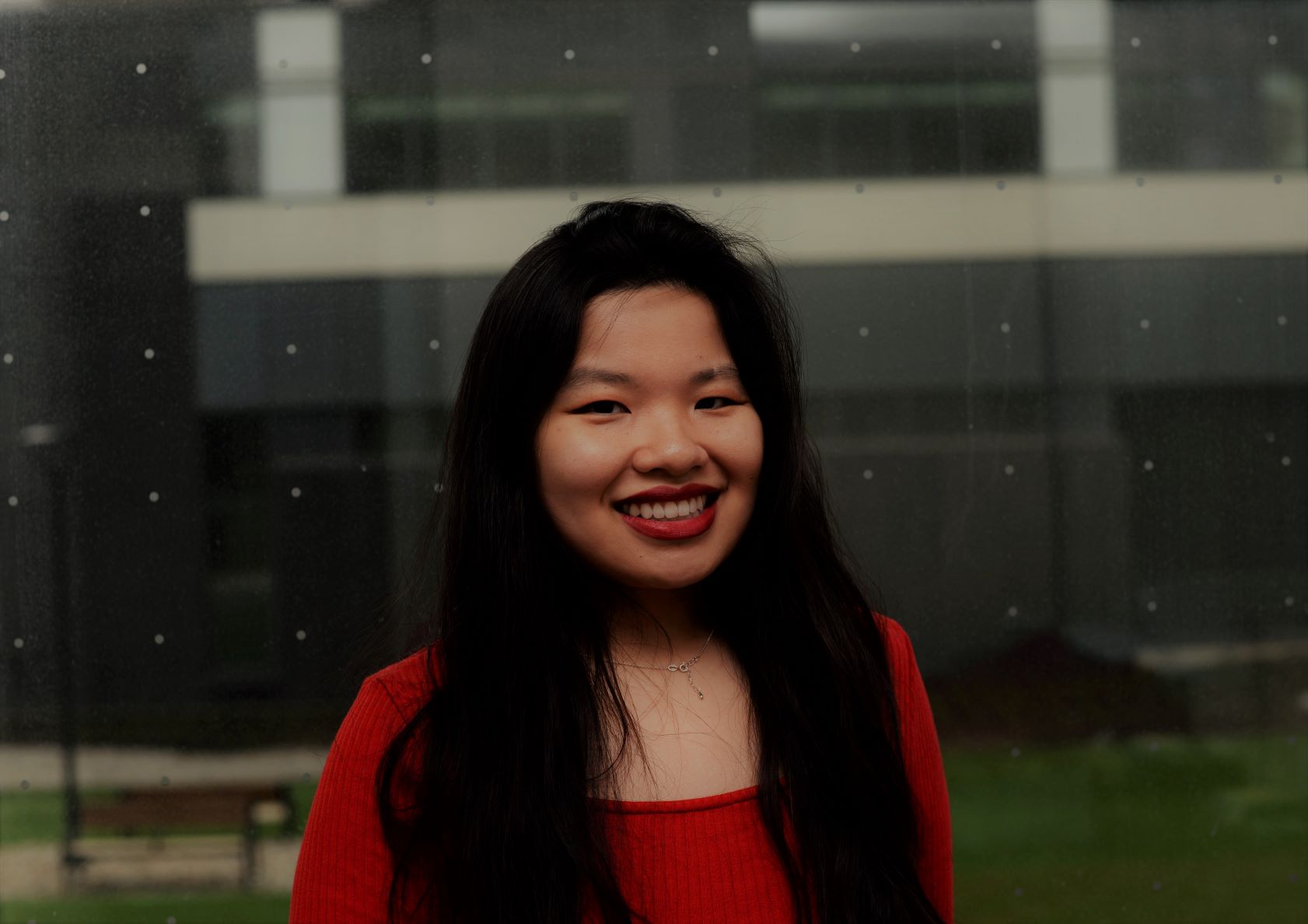 潘美美, best known by her Anglo name Rachel Phan, is a writer based in Toronto.
More From New/Mode Blog
More on Canada from New/Mode Blog
More on Canada from New/Mode Blog
More on Canada from New/Mode Blog