Campaign spotlight: No More Dirty Banks
Film and music stars are now backing Gidimt'en Checkpoint & Indigenous Climate Action demand of City National Bank's Parent Company, RBC, to stop funding climate change and Indigenous rights violations. Over 10,000 emails have already been sent using New/Mode's platform to support this initiative.
About the campaign
The Wet'suwet'en people have been fighting to protect their land and sovereignty for over a decade. Now, the Coastal GasLink pipeline threatens their drinking water and way of life, but they are not backing down.
City National Bank is a bank many celebrities use and it is owned by the Royal Bank of Canada (RBC). RBC is one of the biggest funders of the the Coastal GasLink pipeline and they have invested more than $160 billion since 2015 to finance tar sands, fossil fuel extraction and transport.
The campaign is calling on City National Bank and RBC to withdraw support for the Coastal GasLink project.

The campaign has a particularly compelling theory of change given the celebrities involved in this campaign likely have accounts with the City National Bank that amount to hundreds of millions of dollars.
Actions
March 16th - A formal letter was signed by over 65 Hollywood celebrities that were released in Variety Magazine and launched on www.nomoredirtybanks.com.
A virtual press conference to launch the campaign took place on March 16th, with words from Mark Ruffalo, Chief Na'moks, Sleydo' (Molly Wickam) from Gidimt'en Checkpoint, Eugene Kung which was moderated by ICA's senior director Melina Laboucan-Massimo.
The campaign was jointly launched by Gidimt'en Checkpoint and Indigenous Climate Action.
March 17 - Mark Ruffalo @MarkRuffalo, Gidimt'en Checkpoint @Gidimten and Indigenous Climate Action @Indigenous_ca premiered this powerful video from the frontlines of the fight to #DefundCoastalGasLink.
March 23 - In a passionate speech, Bryanna Brown, Inuk and Mi'kmaq from Nunatsiavut, Labrador, and a National Steering Committee member of @Indigenous_ca, spoke at the Orleans event for the Day of Action for a Just Transition about how Indigenous rights and #LandBack are climate solutions. #JustTransitionAct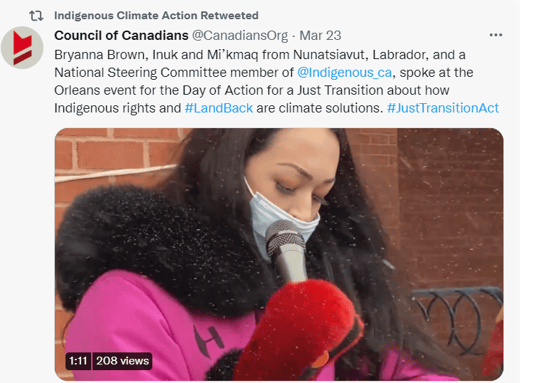 March 30 -
Mark Ruffalo
@MarkRuffalo
,
and many other celebrities like Leonardo DiCaprio
@LeoDiCaprio
and Jane Fonda
@Janefonda
have thrown their support behind Wet'suwet'en hereditary chiefs and other leaders who are calling on the Royal Bank Of Canada (RBC) to withdraw its financing for pipeline developments in B.C.'s north.
April 5 - Greenpeace Canada @GreenpeaceCA was calling on @scotiabank to stop funding fossil fuels, respect Indigenous rights and cut ties with @OilGasCanada.
April 7 -
Hundreds of people were gathered just blocks away from RBC's headquarters to tell them that they should stop financing the destruction of Indigenous lands on the day of their Annual General Meeting. Instead, at last minute
@RBC
decided to go virtual.
Instead of having a live meeting as they had originally announced, @RBC decided to go virtual at the last minute.

— Indigenous Climate Action (@Indigenous_ca) April 7, 2022
April 7 - Melina Laboucan @Melina_MLM spoke at the RBC AGM to tell RBC shareholders about the devastation their fossil fuel investments are causing to Indigenous communities, including Melina's, in the tar sands.
The unique No More Dirty Banks campaign is making waves. Please help us spread the word by sharing this blog post with your friends and followers. Thank you for your support!
Take action
---
Sign up for our newsletter and we'll keep you updated on the latest news, resources, and events related to advocacy.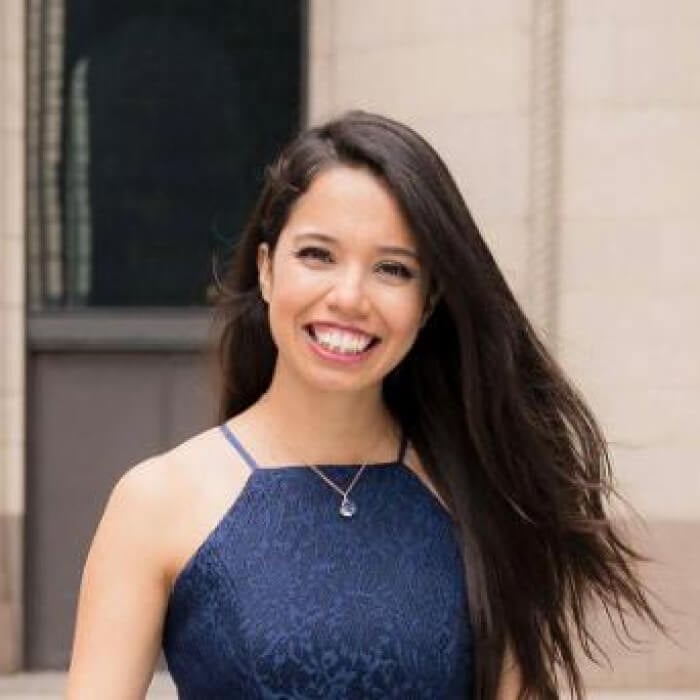 Marketing Coordinator @New/Mode - Digital Marketing I Brand Builder I Data-driven
More From New/Mode Blog
More on Campaign Strategy from New/Mode Blog
More on Campaign Strategy from New/Mode Blog
More on Campaign Strategy from New/Mode Blog