3 creative campaign ideas from the labo(u)r movement 💡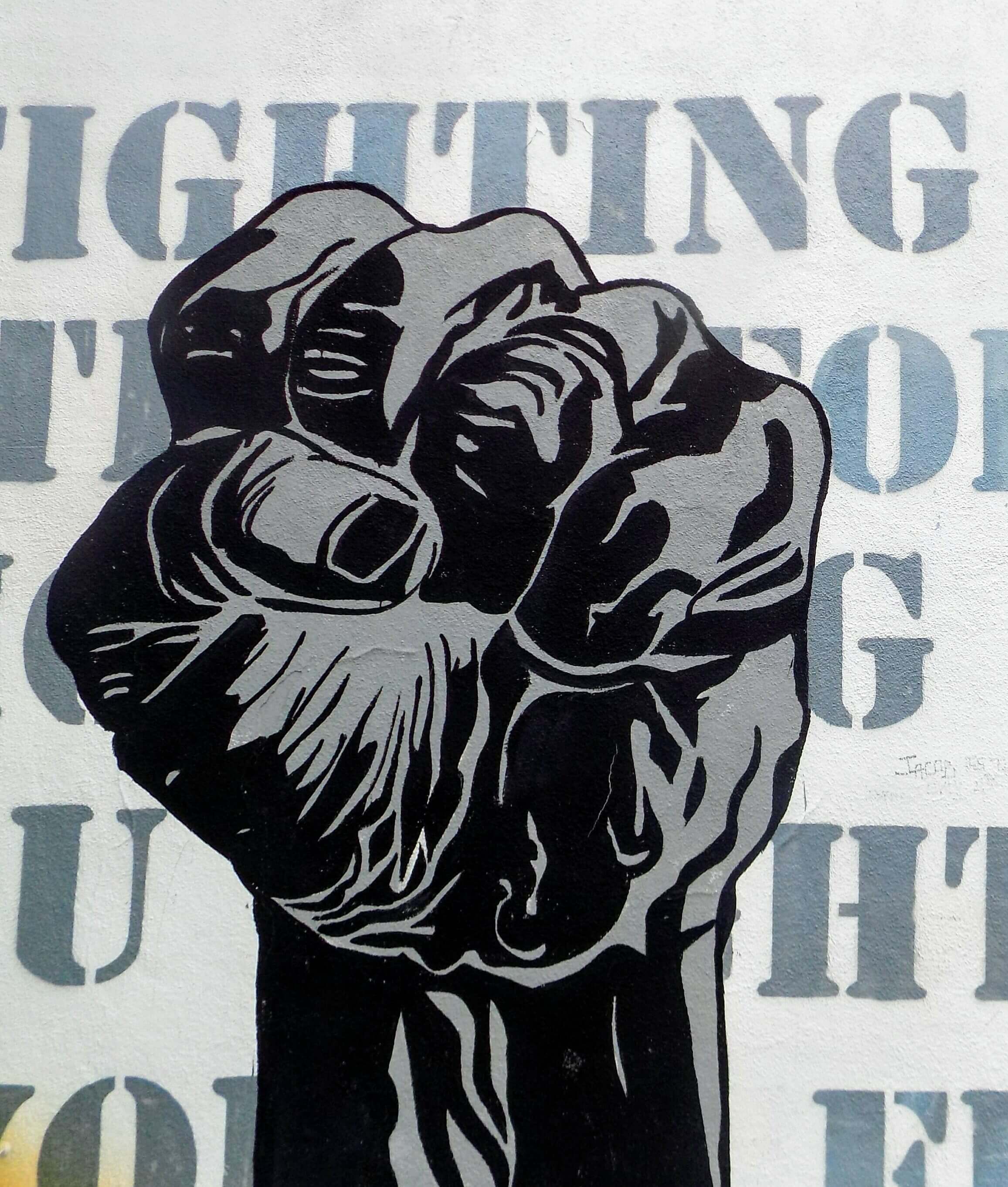 Once again, labo(u)r unions are leading the charge – whether it's fighting for the rights and safety of essential workers, advocating for affordability and better stimulus packages, or building camaraderie and solidarity among their members during this time of crisis.
Unsurprisingly, an increasing number of labo(u)r groups are upping their investments in digital and discovering new, innovative ways to accomplish their goals with powerful online platforms. We're seeing incredible creativity coming out of their campaigns – and great ideas that all digital campaigners can run with, no matter your issue or sector.
Get user-generated content
Organizations all over the world are dealing with similar challenges and realities, from limited resources and staff capacity, to a loss of human connection and community.
Public Service Alliance of Canada (PSAC) came up with a brilliant solution to both of those problems. Using New/Mode's platform, PSAC asked their members to share how they were working and helping during the COVID-19 pandemic. The form gave members the option to submit their photos along with their stories. PSAC then used the submissions as content for their website and social media channels.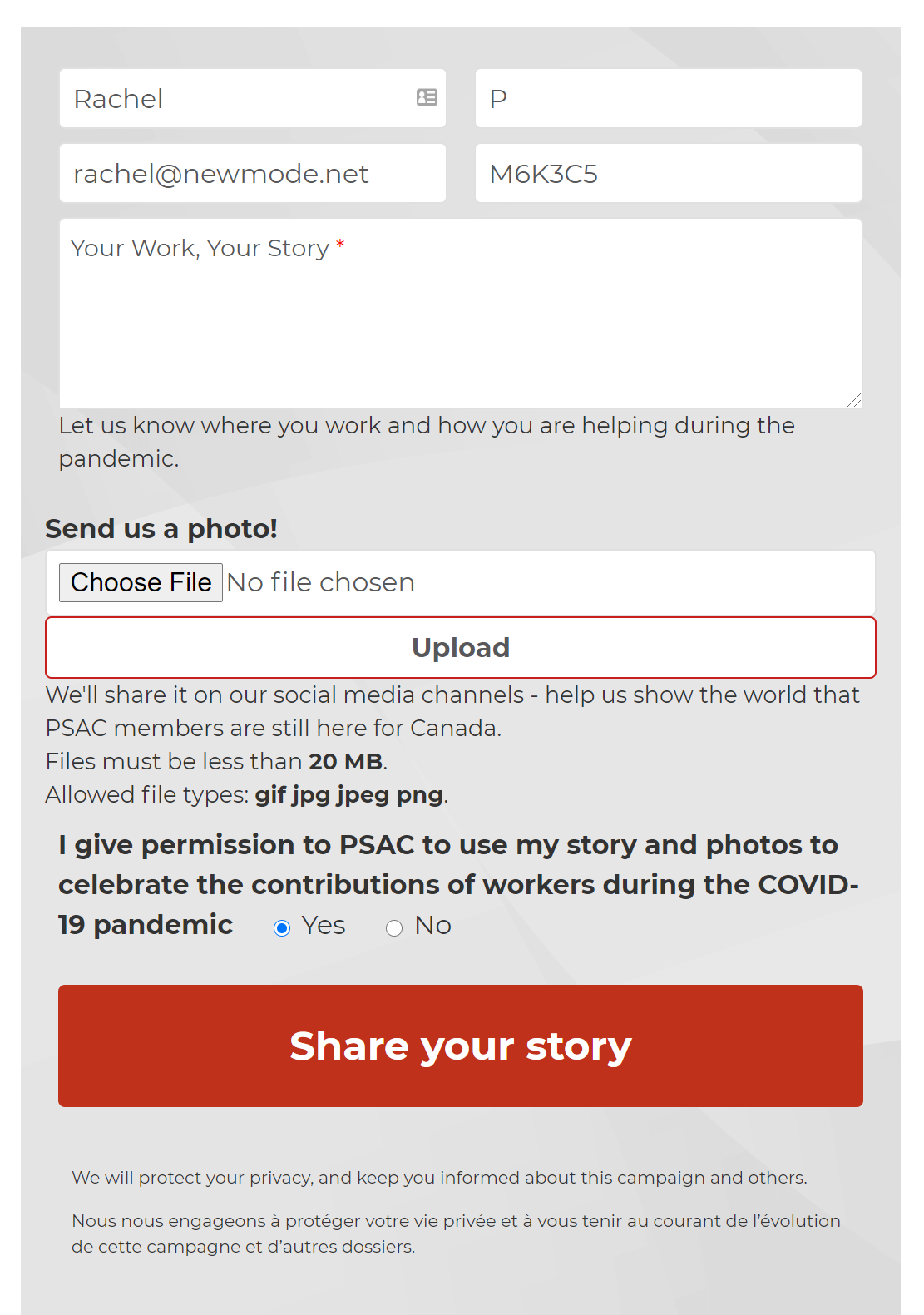 💡 Tip: For any organization facing limited resources and staff capacity, user-generated content is not only cost-effective, but submissions are generally more personal and human, making that content even more compelling. In this case, the member-generated stories were turned into a powerful archive on PSAC's website. 👇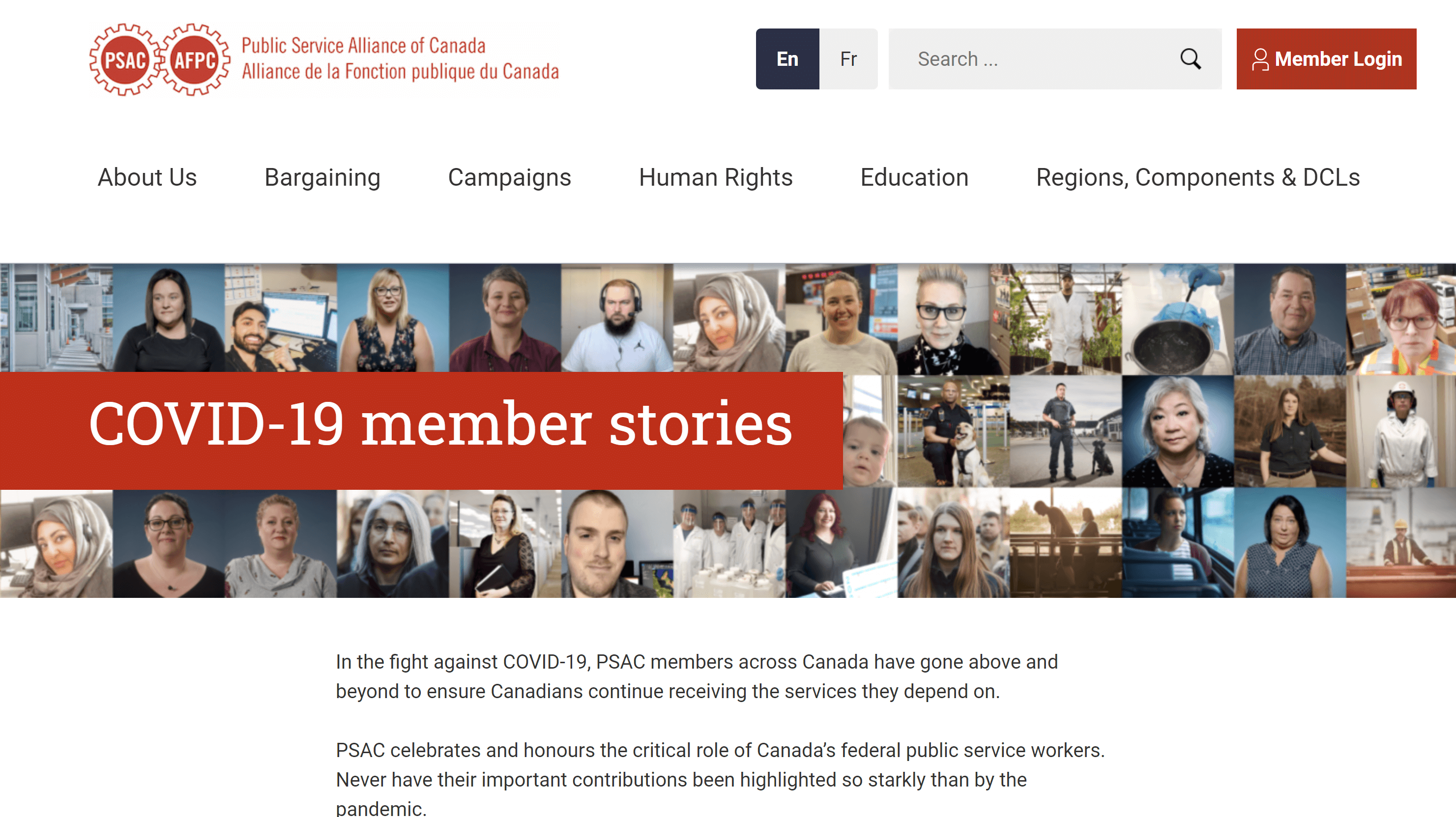 Another reason why this campaign was so impactful was because it facilitated connection amongst PSAC members across the country. PSAC literally put human faces to the issue of working through the pandemic, and in doing so, generated a sense of solidarity and feelings of, "We're all in this together."
During a time when traditional in-person events and community-building are off the table, PSAC is thinking outside of the box and leveraging New/Mode's platform to generate compelling content, foster connection among its members, and promote the union's incredible work. ⭐
Team up with other orgs to tackle corporations
In July, we wrote about how we're seeing more and more collaboration across sectors and movements as different groups come together to campaign on the same issue and build collective community.
One such collaboration saw Greenpeace US teaming up with United Food and Commercial Workers (UFCW) to demand that America's major grocery store chains protect workers by making masks mandatory. This collaboration, which was part of UFCW's #ShopSmart campaign, is an excellent example of two organizations leveraging their separate lists for a common goal.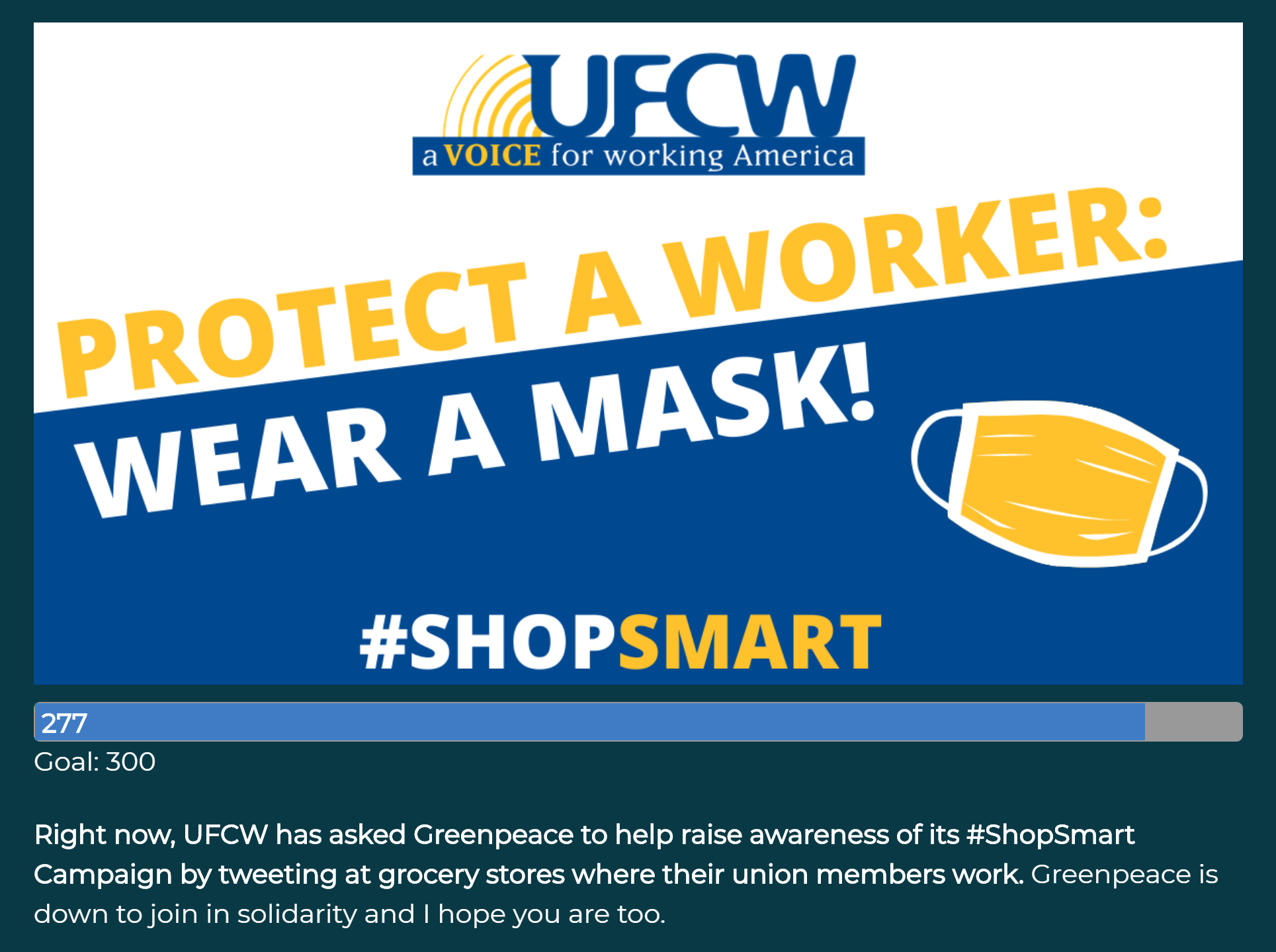 💡 Tips:
➡️️ Tweet storm actions are highly effective ways to get you closer to your advocacy and engagement goals, and raise the public profile of your campaign.
We know that companies – big and small – read the tweets they're tagged in. In fact, many corporations have social media managers that are responsible for monitoring what people are saying about the brand. Now, imagine the effect of being tagged in the same tweet hundreds of times. That tactic increases the chances a social media manager will bring the issue up the chain of command. Plus, the more tweets = the quicker and farther your message spreads.
➡️️ Candidates and elected officials aren't the only decision-makers to target.
Corporations need to be held accountable, too. With tools like New/Mode's, real people and communities are empowered to push for greater accountability from companies that hold mega power, from big banks (see this Canadian Labour Congress campaign), to Amazon, to the heads of major grocery store chains. Power, no matter how or where it's held, must never go unchecked — and that's where you come in ✊ (Psst, while we're targeting corporate bigwigs in different digital channels, let's also remember to vote with our dollars!)
By teaming up and taking advantage of their different supporter bases, Greenpeace US and UFCW amplified the message of the #ShopSmart campaign. They also leveraged the power of social media to hold big corporations accountable. ⭐
Add SMS to your campaign toolkit
We've written at length about how SMS is the future of modern digital campaigns, but in case you need a refresher:
Text messages have a mind-blowing 98% open rate compared to just 20% for marketing emails.
90% of text messages are read within three minutes, while the average response time for an email is 90 minutes.
Non-profit text messaging audiences

grew by 26%

in 2019, while Facebook audiences grew by just 4% – and email list sizes actually declined by 2%.
SMS engagement rates can be

10x higher

than email engagement/conversion rates.
We're already seeing tremendous SMS uptake among labo(u)r organizers, including One Fair Wage, Elementary Teachers' Federation of Ontario (ETFO), and Canadian Labour Congress (CLC). Each of these organizations is leveraging New/Mode's powerful SMS Actions tool to meet their engagement and advocacy goals.
ETFO was an early adopter of SMS, and their text campaign ahead of the last Ontario provincial election was hugely successful. The union used text banking to inform and engage members about the election and remind them to vote both during advanced polls and on Election Day. Over a series of three text bank campaigns, ETFO sent more than 97,000 texts using New/Mode, with an overall engagement rate of 36.9%!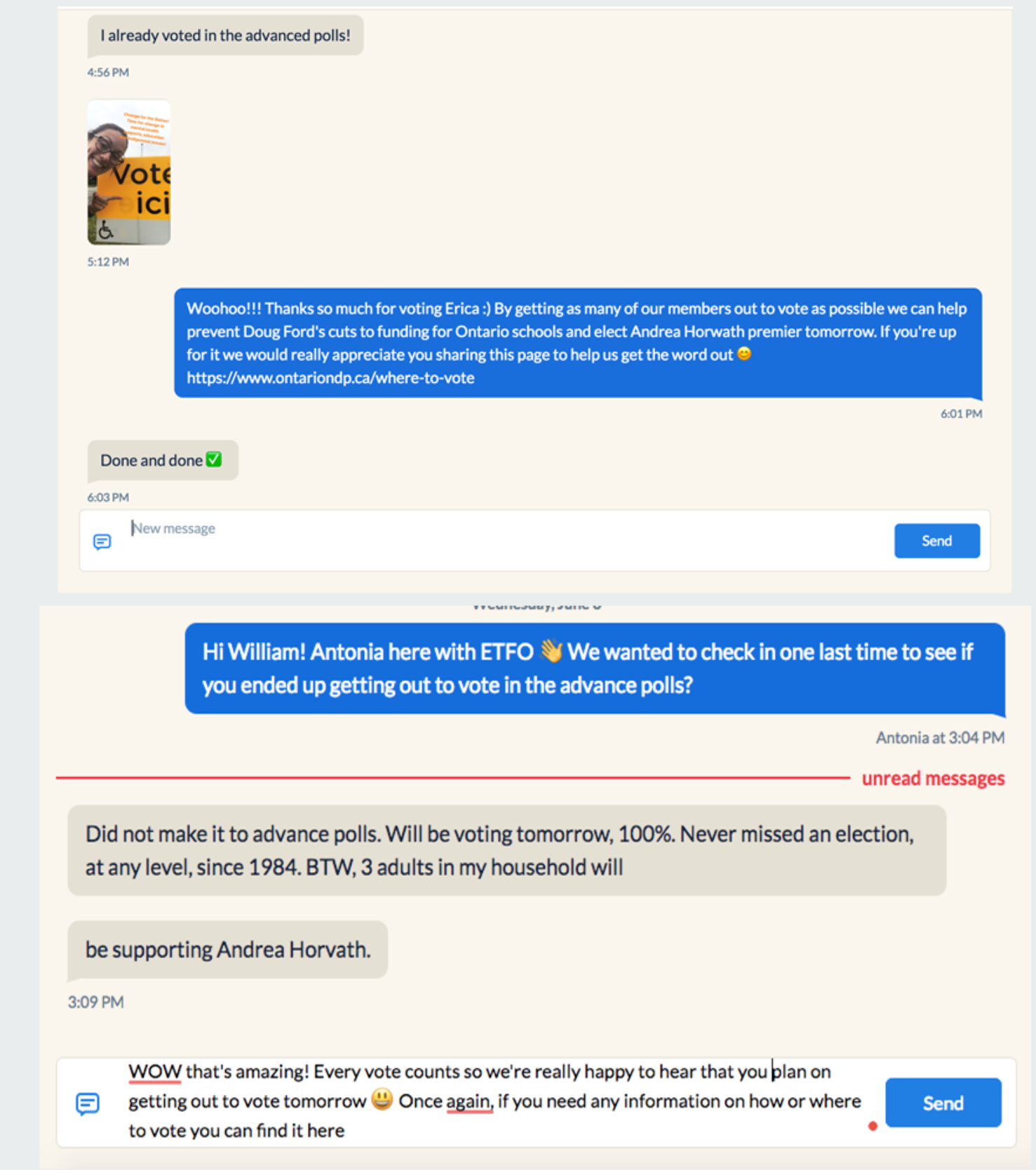 One Fair Wage boosted engagement and mobilized their community by sending supporters text messages that launched the group's petition to U.S. governors. The petition advocated for the economic and health needs of unemployed Black service workers. By using SMS to quickly and easily direct supporters to this advocacy action, One Fair Wage's petition achieved an incredible 86% conversion rate.
(Bonus: Our SMS Chatbot is an awesome information-gathering tool, which means One Fair Wage was able to grab their supporters' attention, as well as their email addresses, zip codes, and first names.)
CLC just launched an SMS action ahead of Labo(u)r Day to coincide with their Forward Together campaign. Forward Together is a collaboration between Canada's unions that calls on all levels of government to focus on investments and community supports to help restart the economy and protect Canadians.
CLC texted supporters to alert them about the launch of the campaign on Facebook. Supporters were then able to opt-in to receiving updates on the campaign launch and eventually directed to a live watch party on Labo(u)r Day. On the Forward Together website, supporters are also encouraged to sign up for SMS to receive campaign updates, simple actions they can take, and breaking news on when goals are met.
We need a plan that's rooted in our way of doing things - on health care, on jobs and in how we care for each other. Together we will push forward. #ForwardTogether #canlab #LabourDay #cdnpoli pic.twitter.com/jcLWHav1QC

— Canadian Labour (@CanadianLabour) September 7, 2020
By adopting innovative tools like SMS Actions, labo(u)r organizers are meeting members and supporters where they are, and making it even easier to engage and mobilize their communities. ⭐
📢 Are you a labo(u)r organization looking to build public support and solidarity on bargaining, job action, and other issues impacting working people? For the entire month of September, New/Mode is offering progressive labo(u)r organizations a 20% discount on a full suite of targeted engagement tools. Sign up here!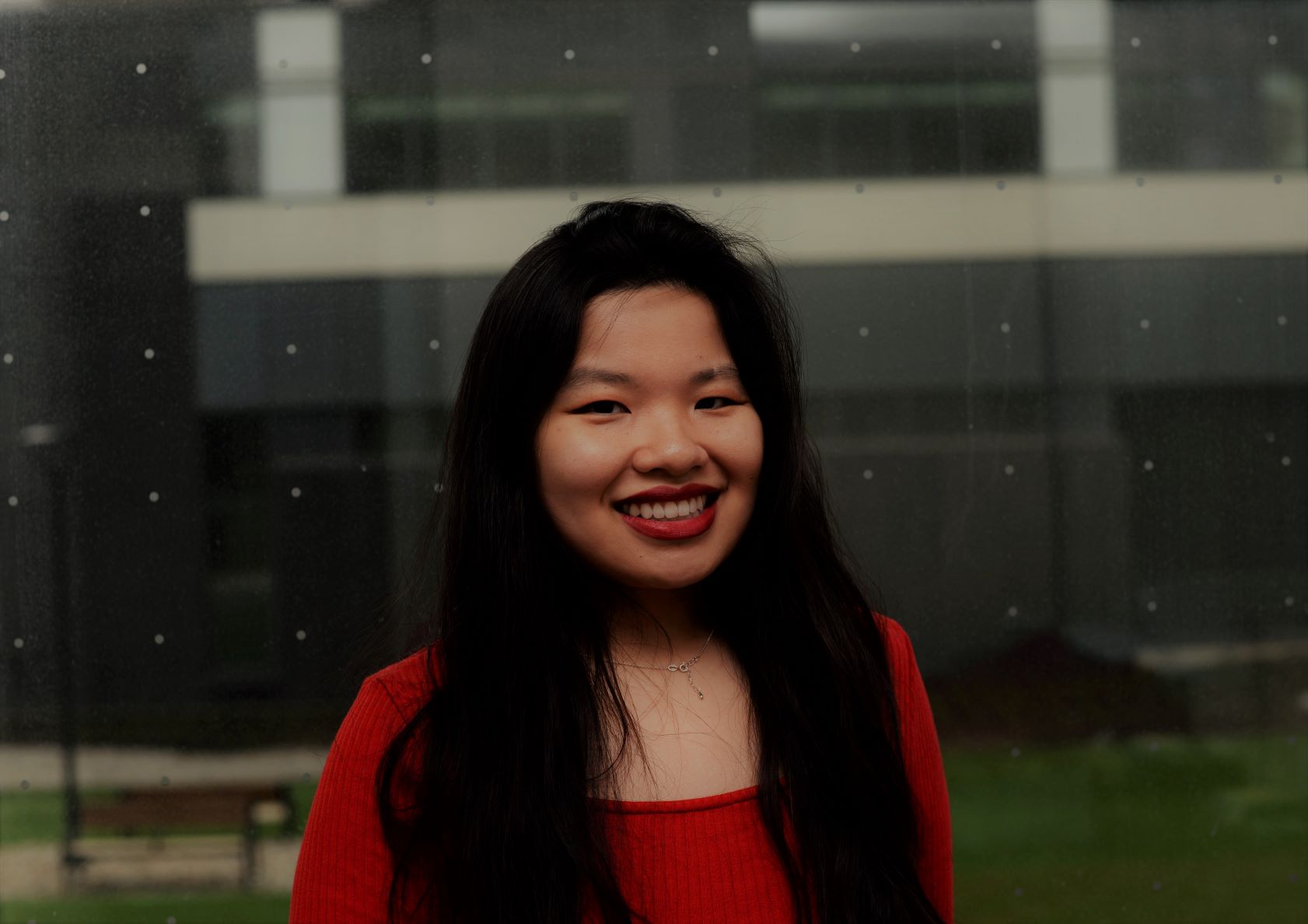 潘美美, best known by her Anglo name Rachel Phan, is a writer based in Toronto.
More From New/Mode Blog
More on Labo(u)r from New/Mode Blog
More on Labo(u)r from New/Mode Blog
More on Labo(u)r from New/Mode Blog