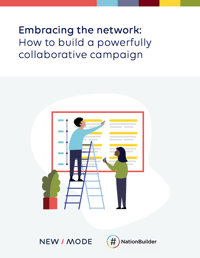 A 10-step guide to networked campaigns
"Embracing Networks" in campaigns can lead to powerful results. Many of the largest campaigns in the world, mobilizing millions of people, use the power of networks. It's easier than ever to embrace networked campaigning thanks to new technologies that have come on-stream in recent years.
This free download is available for progressive campaigners and organizations who want to learn more about embracing networks to drive powerful results.
Learning outcomes:
Setting shared campaign goals and writing unity statements
Knowing what kind of network you need
Getting buy-in and creating your outreach team
Kicking-off your campaign
Coordinating and supporting movement partners
This guide was developed collaboratively by New/Mode and NationBuilder.